< back >

Clarissa - 3220, Schooner, 95 tons Register, Built 1855, Aberystwyth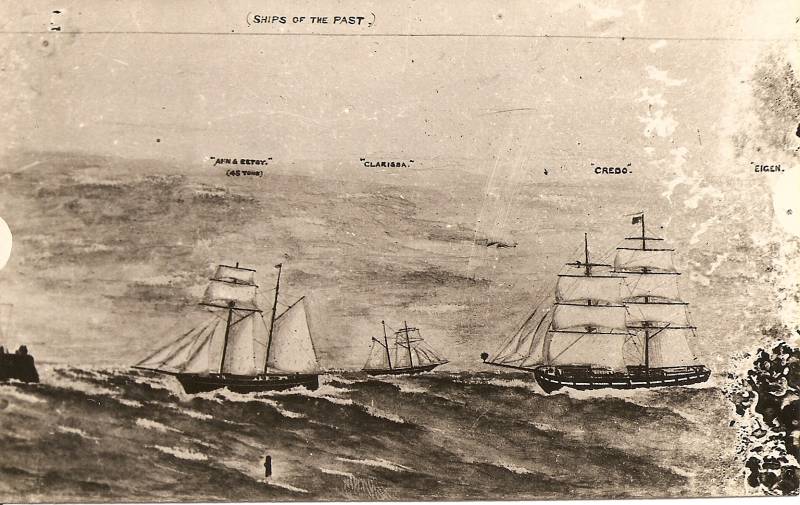 The Clarissa was a top-sail schooner built by Thomas Jones (1803-1880, ropemaker) and wholly owned by him. She was named after his daughter who was four years old when the ship was launched.
Her captains included:
1868-74, Thomas James (b.1845, New Quay, cert. no. 33261)
1874-76, Evan Jones (b.1839, Aberarth, cert. no. 28071)
1877-79, James E. Watkins (b.1842, Aberystwyth, cert. no. 88829)
1879-80, William James (b.1842, Aberystwyth, cert. no. 27866)

The Clarissa was at Hollyhead for the Census in 1881.

She foundered in Cardigan Bay in 1866, as recorded on the Royal Commission on Ancient & Historical Monuments of Wales website:
"The CLARISSA is recorded a wooden schooner built at Aberystwyth in 1855 and belonging E J Jones, Aberystwyth. Technical and configuration specifications are given as 96gt; 81ft 4in length x 16ft 6in breadth x 10ft 4in depth; partly fastened with iron bolts; official number 3220. The vessel was on passage from London to Douglas, Isle of Man, with a cargo of bagged cement when it developed and leak. The schooner subsequently foundered off the Cardigan Bay lightship on 30 July 1886."


Sources:
Photo - Nick Tudor-Jones
Cymru a'r Mor (Maritime Wales) No.17 - 1995, p28-50, "Thomas Jones of Aberystwyth, Shipowner", Gerald Morgan
Welsh Mariner's Index - < http://www.welshmariners.org.uk >
Crew List Index Project - < http://www.crewlist.org.uk >
http://www.coflein.gov.uk/en/site/272527/details/CLARISSA/