Crusader - 53033, Snow / Brig, 184 tons Register, Built 1865, Aberystwyth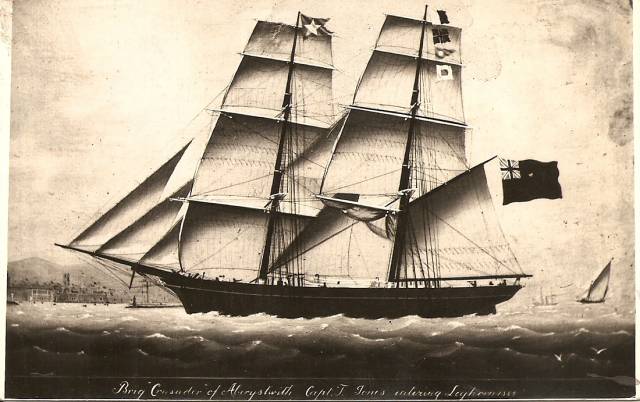 The Crusader was used to carry slate from Portmadoc to Bremen, then on to Finland to collect timber to bring back to Aberystwyth for shipbuilding.
Her dimensions were: 101ft long, 23ft 6in wide and with a hold of 12ft 7ins. She was built by Evans of Aberystwyth.
Lloyds Shipping Register for 1868-69 shows the Crusader being captained by T. Jones and owned by Jones & Co.
According to the Mercantile Navy List, by 1880 she was owned by T Jones of Havod, Cardiganshire.
She was lost on 10th March 1891 in the Bristol Channel in the 'Great Gale' while carrying cut roofing slate from Caernarfon to Harburg. One crew-member lost his life. The captain was T Williams and the owner was W. Morris of Aberystwyth.
Sources:
Photo - Nick Tudor-Jones
"Born on a Perilous Rock - Aberystwyth Past and Present", by W J Lewis, Cambrian News (Aberystwyth) Ltd. 1980, Page 86
Wreck description: < http://www.coflein.gov.uk/en/site/274580/details/CRUSADER/ >