< back >

Fanny Fothergill - 49663, Brig, 179 tons Register, Built 1840, Aberystwyth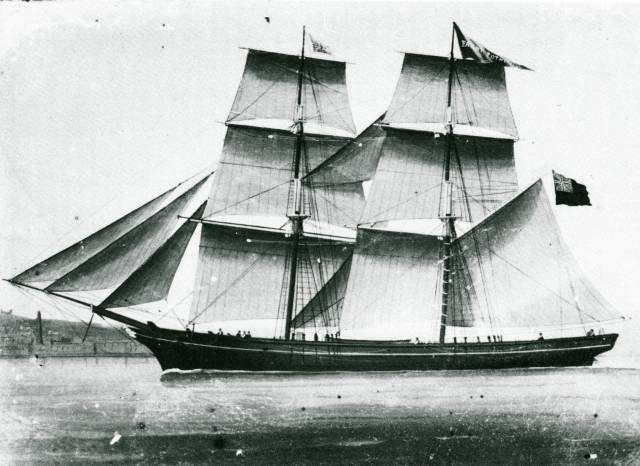 The Fanny Fothergill was built in 1865 by David Jones for her owner and master John Hughes and was registered at Aberystwyth for 20 years before being sold to Fleetwood owners.
John Hughes (b.1821, Borth, cert. no. 73883, d.1875) remained as Master until 1872. His Mate was William Hughes (b.1842, Borth, cert. no. 34446) from 1867 and he stayed on as captain after John had left, remaining with the ship until 1877.
The Fanny Fothergill was used to carry sugar from the West Indies to London or Glasgow. She traded between Genoa and Antwerp, and she also sailed to South America.
In one extremely long voyage she sailed from London in Sept 1874 to South Africa then on to the Seychelles, Sri Lanka, India, Australia and New Zealand before finally returning to Liverpool in May 1877.
In Australia she was recorded as arriving at Sydney on 3rd April 1876 and her crew were listed as:
Surname
Given name
Station
Age
Of what Nation
Status

HUGHES

WILLIAM

CAPTAIN

CREW

JENKINS

THOMAS

MATE

25

BRITISH

CREW

PETERSON

WILLIAM

A. B.

23

FLYN

CREW

SMITH

JOHN

O. S.

16

BRITISH

CREW

COOMBES

PHILIP

O. S.

19

BRITISH

CREW

GOLMOND

JOHN

BOSUN

42

BRITISH

CREW

CHALMERS

H.

STEWARD

31

BRITISH

CREW

DONNELLY

JOSEPH

O. S.

19

BRITISH

CREW
By 5th September she was recorded as being in Auckland in the local newspaper the Daily Southern Cross, and then leaving on 21st September for Melbourne.
Later in her career the Fanny Fothergill was converted to have three masts.
The Fanny Fothergill was lost with all hands in January 1911 carrying scrap iron from London to Llanelly. She was not seen again after a stop at Falmouth.
Sources:
"Aberystwyth Harbour, An Illustrated History" by William Troughton, National Library of Wales, 1977
"Born on a Perilous Rock - Aberystwyth Past and Present", by W J Lewis, Cambrian News (Aberystwyth) Ltd. 1980
Welsh Mariner's Index - < http://www.welshmariners.org.uk >
Crew List Index Project - < http://www.crewlist.org.uk >
www.wrecksite.eu/wreck.aspx?149723
www.mariners.records.nsw.gov.au/1876/04/008fan.htm
http://paperspast.natlib.govt.nz/cgi-bin/paperspast?a=d&d=DSC18760921.2.4&e=-------10--1----2--