< back >

Truant - 22273, Brig, 141 tons Register, Built 1840, Aberystwyth by John Evans for Thomas Jones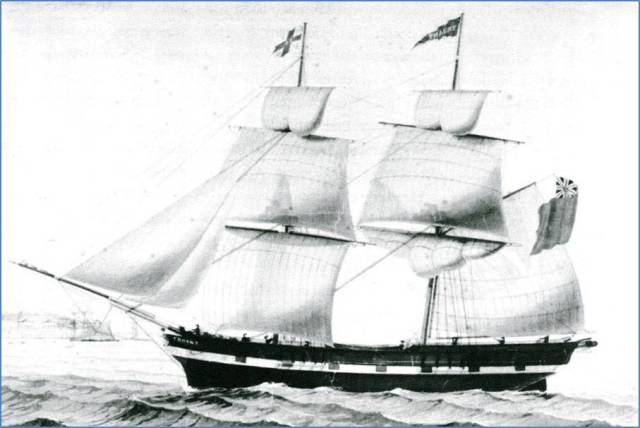 The Brig Truant was built at Aberystwyth in 1840 and was used to trade with the Baltic to obtain wood or hemp for Thomas Jones' yards.
In 1842 it was also used to carry emigrants to Canada as recorded below:
Montreal Gazette, 1842: July 23rd Arrived Quebec July 20th - Brig Truant, [captain] E. Lewis, 39 days, Sligo, [agent] G.B.Symes, ballast, 103 passengers (farmers and labourers proceeding to settle in Canada West, Principally to Kingston and Toronto).
(the Truant cleared outbound on August 16 for Aberystwyth)
Quebec Gazette, 1842:
"One hundred and three passengers in the brig Truant from Sligo, are a healthy set of people, and consist of farmers and labourers, many of whom have friends in the western part of the province. This vessel was ascertained, on checking her list of passengers, to have an excess of 10 2/6 adults over her complement, according to tonnage, for which excess the master was fined in the penalty of £20 sterling, although, according to the extent of her superficial space, she might have carried from 12 to 14 passengers more"
It may have stated that there was more available space, but the vessel was only 74ft long and the journey from Ireland took 37 days and must have been very miserable for the emmigrants who had probably never even been to sea before.

The Truant was fully owned (50% of the shares each) by the ropemakers Thomas Jones the Elder (1773-1853) and Younger (1803-1880).
Unfortunately the Truant was lost with all hands in 1874.
Sources:
Cymru a'r Mor (Maritime Wales) No.17 - 1995, p28-50, "Thomas Jones of Aberystwyth, Shipowner", Gerald Morgan
"Aberystwyth Harbour, An Illustrated History" by William Troughton, National Library of Wales, 1977
www.theshipslist.com/ships/Arrivals/1842b.htm
Crew List Index Project - http://www.crewlist.org.uk
Lloyd's Register of Shipping, 1842-43
1851 Census on www.ancestry.co.uk