< Homepage >

John Jenkins of Borth - A Welsh Mariner's Story


My Great Grandfather, John Jenkins, was born in August 1840 in the coastal village of Borth, 5 miles north of Aberystwyth.

This is the story of his sailing career which I have pieced together from many sources and illustrated with contemporary accounts.
His story is not exceptional but it provides an example of the life experienced by many thousands of other welsh mariners in thesecond half of the19th Century.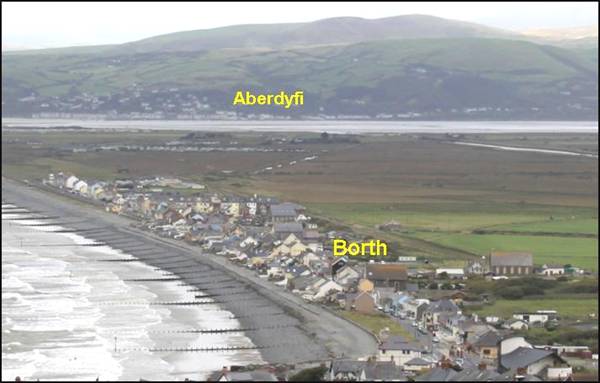 The village of Borth was a small fishing and farming settlement in 1840 with a
population of about 700, a remarkable number of whom were sailors or
Master Mariners. The village was unusual in being built in a long line on the
top of a raised bank between the sea and the river Leri, which had recently
been diverted to drain the marshes to the east.
It did not have a sheltered harbour so the small fishing and coastal trading
boats would have been beached for loading and unloading as shown in the picture.
The nearest ports were Aberdyfi to the north, across the Dyfi river estuary,
and Aberystwyth five miles to the south.
John's father was David Jenkins. He was born in Borth in1802[1] and he
married Catherine Jones in 1826. He was, at various times, a farmer;
an agricultural labourer; a mariner and finally a 'carrier' or haulier.[2]
As a carrier he may have provided the carts for loading and unloading vessels.
1841
In the first national census taken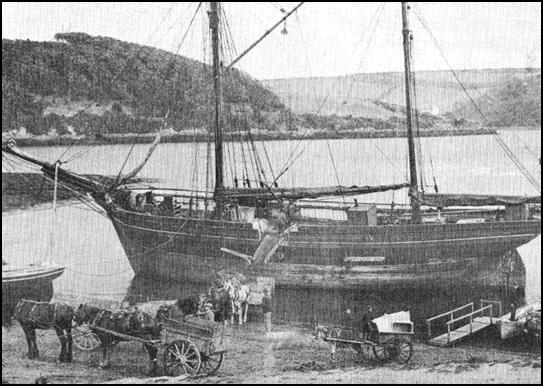 on 6th June 1841, John is recorded as nine months
old, living in Borth with his parents and 4 year old sister Anne. He also has a nine
year old brother and a fourteen year old brother David who is described as a mariner.
An analysis of the census gives an interesting split of occupations – out of 691 people
in Borth (incl. Morfa Borth, Borth & Gwastad) there were 84 mariners, 106 if
mariner's wives are included, assuming their husbands were at sea during the census.
This is a very high proportion for such a small village with no harbour. The other
occupations included: 18 agricultural labourers; 4 servants; 3 farmers; 3 shoemakers;
3 masons; 3 tailors; 2 joiners & 1 each: bailiff; cordwainer; carrier; blacksmith; miller;
bargeman; weaver; tanner and butcher (a total of 45). This means that over two thirds
of the working men were mariners who would have probably been employed on ships
sailing from Aberdyfi and Aberystwyth.




1851
John is listed in the 3rd March 1851 census as a scholar (age 11) living in Borth with his parents, his sister and his brother Richard (18) described as a sailor.
This is the last reference that can be found for Richard and it is possible that he was lost at sea. I also cannot find any further reference to his eldest brother
David who was also listed as a sailor in the previous census.
The Borth census for 1851 shows the number of Mariners to have dropped slightly to 95, of whom 15 were Master Mariners. Of the 45 listed in other trades,
the signs of change since 1841 include the recording of 2 shopkeepers and a grocer; 2 more carriers (giving David Jenkins some competition); 2 ship owners;
1 teacher and 1 Postmaster and his assistant. Again, two thirds of the working men were mariners. There were also nine widows whose husbands had been mariners.

1856
John started his sailing career in 1856 at the age of sixteen, according to his Master's Certificate application[3] in 1869 (age 29) where he records thirteen
years of service at sea. He may have already spent time in local fishing vessels before this. Every year, in September, the herring would migrate to Cardigan
Bay and all the fishermen would go out in small boats to catch the fish which would form a major source of food and income for their families. The success
of the herring season was very important for the villagers, a poor season, like 1898, would result in real hardship[4].
1861
The 1861 Borth Census (taken on 8th April) is poorly recorded, but shows John (age 20, no occupation described[5] ) living with his parents and his sister
Anne, now recorded as a Lewis, with a ten year old son meaning that she would have had the baby at the age of fourteen.
This census again shows around 90 mariners (two of them only 12 years old!) and 47 other trades.
The biggest difference since the last census is the number of widows of mariners, which has now grown to 23. This is an increase of 14 in the previous ten
years and doesn't account for unmarried sailors who also lost their lives. A grim statistic, showing just how dangerous a mariner's life was in those days.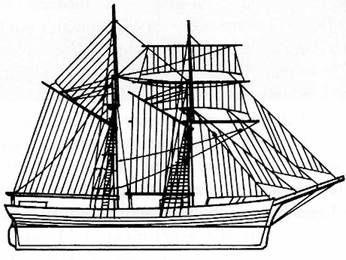 1862
The first vessel that I know John sailed on[6] was the schooner Frances Poole(17350). She was a small
vessel of only 84 tons and 75ft long by 20ft wide, built in 1857 in Aberdyfi by John Jones
(who also built two other ships that John later sailed on).
The crew agreements for the period June 1861-July 1862 show the Frances Poole engaged in coastal
trade around Britain with a brief excursion to France. The Master was William Lewis[7], born in Borth
in 1827, but now living in Aberdyfi. He had been Master since the ship was built. The managing owner
was David Jones (Agent for the shareholders) with an address in Machynlleth.


At the time, there was a boom in slate exports from the mines in North Wales to feed the demand from new house building in the growing industrial cities.
The slate was transported to the coastal towns like Aberdyfi and then shipped all over the UK in small coastal schooners like the Frances Poole.
The crew agreements list the voyages over this 12 month period, starting from 24th Jul 1861 when John joined the vessel in Aberdyfi as a seaman
earning £2-10s per month: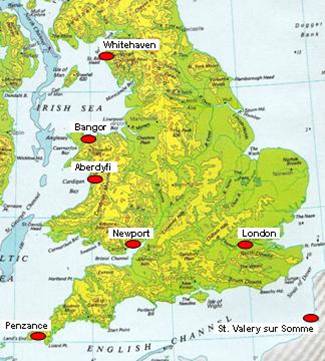 At the end of July they sailed with a cargo of slate from Aberdyfi to London
where they picked up another cargo for St Valery at the mouth of the river
Somme in France, staying here from the 8th to the 18th September as
recorded by H.M. Vice Consul.
They then sailed to Newport in Ballast and back to Aberdyfi (probably with coal).
They sailed again from Aberdyfi to London, then to Penzance in Cornwall,
then to Newport in ballast and back to Aberdyfi by Dec. 1861.
On 11th Feb 1862 they sailed from Aberdyfi to Bangor to London; then to
Whitehaven and on to Newport by 29th April.
They left Newport on 2nd May for Aberdyfi, London and then Whitehaven
again by 17th July 1862.


So apart from a brief stay at home over Christmas, John would have been away for
most of the year.
He finally signed off from the Frances Poole seven months later on 22nd Feb 1863.


John is variously described in these crew-lists as a Seaman, Ordinary Seaman (OS) and Able Bodied Seaman (AB) and it is likely that his status changed
from 'Ordinary' to 'Able' during his time on the Frances Poole. Also on the crew were the Mate, Thomas Jones (29) of Borth[8]; another AB seaman
John Davies (20) of Aberdyfi and a ship's boy Thomas Edwards (16) of Borth on his first voyage at sea. The log book has no entries except 'good'
behaviour for all the crew.
(After John Jenkins left the Frances Poole, Captain William Lewis sailed her until Oct 1863 when he died on board at Newport from a "rupture of a blood
vessel". [9] The vessel continued to trade until Mar 1869 when, like so many of these small ships, it was wrecked, off St. Ives, with the loss of the Master and
the three crewmembers. [10])

At this time, large numbers of small schooners were sailing around the shores of Britain and trading to the Continent and North America. Over 2,900 were registered with Lloyds in 1861[11], most of them built in Britain in small shipping ports and suitable rivers. An increasing number of these (620) had been
built in Wales, which was second only to the South West of England (669) in numbers of ships built.
Four out of the ten vessels that John Jenkins sailed in were built on the banks of the Dyfi River and the table below shows how many of each type were
built in the period from 1840 to 1880[12].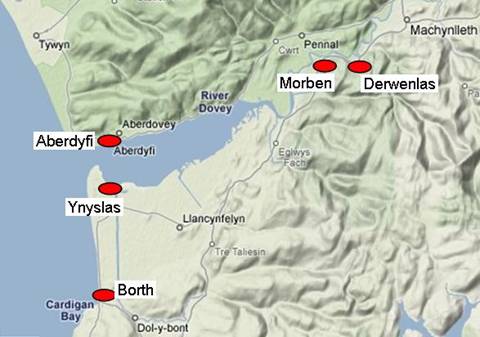 Vessels Built on the Dyfi River Between 1840-1880

Schooners

Qty: 54 Largest 165 tons, 98 ft long

Brigantines

Qty: 3 Largest 209 tons, 105 ft long

Brigs

Qty: 2 Largest 208 tons, 101 ft long

Barque

Qty: 1 258 tons, 114 ft long
| | | | |
| --- | --- | --- | --- |
| Yard | Built 1840-1880 | Yard | Built 1840-1880 |
| Aberdyfi | 46 | Lerry Bridge | 7 |
| Borth | 1 | Morben | 1 |
| Ynyslas | 2 | Derwenlas | 14 |






Shares in these small vessels were split into 64ths which allowed many local business people, farmers, professionals and land-owners to pay relatively
small amounts (circa £20-£40 per share[13] ) and so spread the cost, the profits and the risk. The Masters of these ships also invested in them and, for
the Frances Poole, 8 of the shares were held by Captain William Lewis with ten other stakeholders owning between 2 and 16 shares each, most of them
owning 4 shares[14].
John's father David Jenkins also had a small investment in a schooner, the Deborah of 94 tons built at Derwenlas in 1860. He bought 2 shares, probably
worth about £50 (over £3,500 today), off its captain David Lewis in April 1863, so he must have been making some money from his carrier business.
The sailors on these little ships had a very hard time - living in small, damp, bare quarters in the very front of the ship; eating poor food; sometimes staying
away at sea for many months on end; coping with extremes of weather and all for very little pay. Working the sails must have taken a lot of nerve in a storm,
as graphically described here by a seaman on the 70 ton topsail schooner Hawk[15]:

"The bare masts of the Hawk writhed murderously as the little vessel jumped and rolled. The lean whipping mast seemed the wand of a
murderer, as the wet, malignant bulk of the tops'l thundered at me and wrapped around me. The rain beat upon me and the squall screamed;
the canvas tore again and again from my hold. Now I was flung in against the wet, sticky pine by an unpredictable lurch of the ship (for she
flung herself about with no ordered rhythm); now flung far over the sea as she leaped to windward …Good God! I thought – a sailors life!"

Clearly it wasn't always that bad, and there must have been the good times – calm seas; beautiful views and sunsets; the excitement of visiting foreign
ports– but it would have required a certain toughness to handle this sort of life.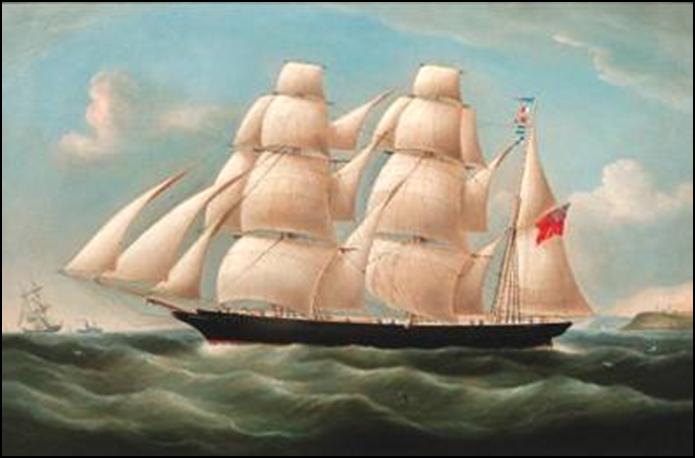 1863
In February 1863 John Jenkins appears on the Crew List of
the barque Panthea

(39115)

sailing to Madras in India as an
AB seaman. He must have been looking for something more
adventurous than sailing back and forth to ports around the
British Isles.

The Panthea (pictured[16] ) was a three-masted barque of
297 tons, 129ft long and 26ft wide with a 15ft hold.
She was built on the Hillsborough River, Prince Edward
Island in Canada on 6th August 1856[17] and transferred
to London in 1857 and then immediately to Aberystwyth.
Captain John Jones (16540) of Borth was her master from
June 1857 to 1864. Her owner was William Jones, a farmer
in Brynawen, Cardiganshire who originally owned all 64
shares but sold 46 of them by 1867[18]

The Panthea had been in Bristol at the end of 1862[19] and then sailed to Newport in S. Wales from where the voyage began on 24th February 1863,
on the same day that John and most of the crew signed on. The Agreement signed before sailing stated that the crew "serve on board the ship on a
voyage to Madras and from thence to any port or ports in the East Indies or wherever employment may offer and back to a port of discharge
in the United Kingdom, estimated duration one year and a half"
The crew consisted of a Mate, Boatswain, Cook/Steward, 5 AB seamen, 1 Ordinary seaman and a ship's boy of fourteen[20].
The first month of the voyage out was punctuated by crew problems as recorded in the log book and concerning the cook, Henry Pritchard (19) from
Newport. On Mar.13th, approx 200 miles off the coast of Portugal, "Henry Pritchard being incompetent to perform his duty as cook & steward,
after having repeated trials to do so, therefore I disrate him from this date to an Able Seaman, wages the same as the rest £2-10s per month".
The next day: "David Evans, AB accepted and undertook the situation of cook & steward lately occupied by Henry Pritchard". Three days later:
"Henry Pritchard being incompetent to perform the duty of an AB seaman, and after having a fair trial, I hearby again disrate him to an
Ordinary Seaman, wages the same as the rest on board £1-10s per month".
The journey around Africa and up to the east coast of India took almost 5 months and they arrived in Madras (now called Chennai) on 16th July 1863.
Upon arrival the new cook, David Evans, was admitted to hospital but discharged 5 days later, apparently in good health. It seems he may have felt better,
but he clearly did not want to carry on as cook. Apparently two others were asked as well without success. The Log records that on 27th, David Evans,
Henry Pritchard and Dominick Conway were all asked to cook but refused to do so – a mild form of mutiny. The next day they were taken ashore on a
police boat and a Magistrate ordered them to take their turns as cook and fined them each 4 days pay.
It's interesting at this point to consider what the reluctant cooks would have had to work with, in order to provide for the crew. The Agreement signed at
the beginning of the voyage laid out the "Scale of provisions to be served out to the crew during the voyage", "Substitutes for any or all may be made in
fair proportion at the Master's option":


Bread

lb.

Beef

lb.

Pork
lb.

Flour
lb.

Peas
pt

Tea
oz.

Coffee
oz.

Sugar
oz.

Water
qts.

Sunday

1

1½

½

⅛

½

2

3

Monday

1

1¼

⅓

¨

¨

¨

¨

Tuesday

1

1½

½

¨

¨

¨

¨

Wednesday

1

1¼

⅓

¨

¨

¨

¨

Thursday

1

1½

½

¨

¨

¨

¨

Friday

1

1¼

⅓

¨

¨

¨

¨

Saturday

1

1½

¨

¨

¨

¨




The reality of this sort of food is well described in Henry Hughes book "Through Mighty Seas" based on his experiences on the 298 ton barque Pride of
Wales in the early 1890's:
"Ships biscuits were the sailor's substitute for bread … they were carried in large iron tanks and for a short while at the beginning of the voyage
they were fresh, crisp and really quite appetising, but frequent visits to the tanks allowed brine saturated air to make contact and contamination followed …within a few weeks our staple food became mawkish and weevily. Breaking the biscuit into convenient portions for eating, these
brown headed little devils met one's gaze … they were not a bit shy, they would just remain there and squirm. The old salt would take little heed
– he would dislodge the tenants by gently tapping the biscuit on the table and then go on with the meal. Flour, too, suffered much the same fate
in a sailing ship. After a few weeks at sea that delightful silkiness characteristic to the touch would depart, the nourishing gluten would die, and
the contents of the bin would change into a granular powder. When it arrived at this stage it was useless for bread making …but it did mix with

water to become a lifeless shape. This leaden mass would submit to many disguises. Rounded off in small balls it became doughboys.
Be-speckled with stray currents it was plum-duff…

A word about Friday's fish. It was a desiccated and highly-salted variety of cod. It flew the Norwegian flag and it was the nearest approach to fossilisation. It easily defied the vagaries of weather in all parts of the world. Organisms feared it; sailors were made to eat it. Every Friday
morning the cook would emerge from the galley armed with a powerful hammer and sheets of stock fish; each sheet was placed in a canvas bag.
The windlass end on these occasions became an anvil, and here the cook would hammer the bag until he had reached a point of exhaustion. The
fish would come out of the bag with its back broken. It was later made to dance for an hour in boiling water and then sent to the table. Here it
received the benediction in many languages of irate sailors."
Clearly the best any cook could achieve with these ingredients was unlikely to gain any praise, though why the job became quite so unpopular on this
particular voyage we'll never know.
Further crew problems occurred before they finally left India. On the 31st July 1863, David Evans again entered Madras hospital with acute dysentery
from which he sadly died on 5th August. George Trevelyan (Ordinary Seaman) was discharged by mutual consent on 11th August and on 12th August
John Thomas (AB) was admitted to Hospital in Madras where he was left behind and officially discharged from the ship. The sudden loss of three out of
the seven crew meant that Captain John Jones would have urgently looked for replacements. Two new crew members were taken on before the ship
sailed on 12th August. By 17th it was about a hundred miles off the east coast of Sri Lanka where the log records that one of the replacements – David
Nelson – had been found incompetent and unable to reef or steer so his wages were reduced from £2 to £1 per month. By 1st Sept the ship had travelled
1,500 miles directly south (crossing the equator) when the second replacement – Francis Shea – was found "quite ignorant of ships work and duty and
quite useless" so his wages were reduced to £1-5s per month.
After this the Panthea clearly had very favourable weather and sailed all the way to Britain, without incident, in just two and a half months – arriving in
London by 21st November 1863, when all the crew were discharged by the Master. This was a remarkably fast journey – 12,000 miles in 82 days – at
an average speed of about 146 miles/day. The fastest tea clippers, on a similar route across the Indian Ocean & around Africa, travelled at no more than
an average of 164 miles/day and took about 73 days to cover the same distance[21]. The Canadians who built her clearly designed her for speed and the
painting on page 3 shows her with a full press of sails, including studding sails extending from some of the upper yards.
John Jenkins was recorded on the crew list as Very Good at seamanship skills and behaviour when he was discharged in London. He would have walked
away from this 9 month voyage with the princely sum of £22-10s – about £1,600 in today's money[22], not much for 9 months labour.
It's interesting to note that the London he would have entered was literally 'Dickensian' ('Great Expectations was published between 1860 and 1861)
and it must have been a very rough and colourful place around the docks area. A brief description, written just over 10 years previously, helps to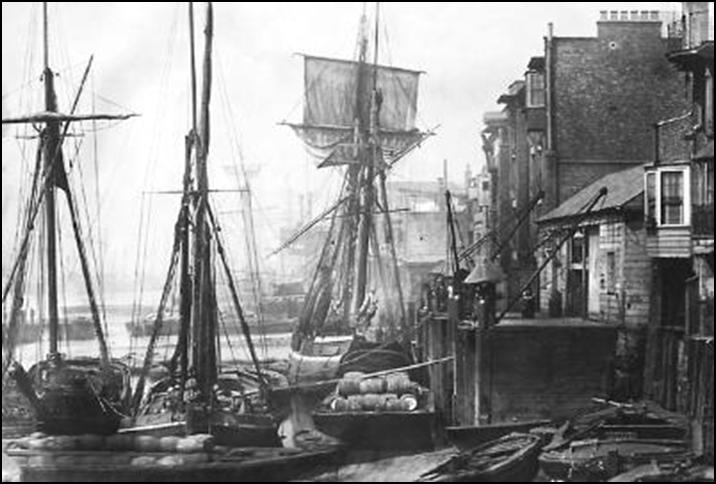 illustrate[23]:
"As you enter the dock, the sight of
the forest of masts in the distance, and
the tall chimneys vomiting clouds of
black smoke, and the many-coloured
flags flying in the air, has a most
peculiar effect … Along the quay, you
see men with their faces blue with
indigo, and now gaugers with their
long brass-tipped rule dripping with
spirit from the cask they have been
probing; then will come a group of
flaxen-haired sailors, chattering
German; and next a black sailor with
a cotton handkerchief twisted turban-
like around his head….
Here you will see sitting on a bench a
sorrowful-looking woman, with new
bright cooking tins at her feet, telling
you she is an emigrant preparing for
her voyage. As you pass along this
quay the air is pungent with tobacco,
at that it overpowers you with the
fumes of rum. Then you are nearly sickened with the stench of hides and huge bins of horns, and shortly afterwards the atmosphere is fragrant with coffee and spice. Nearly everywhere you meet stocks of cork, or else yellow bins of sulphur or lead-coloured copper ore… The sailors are singing boisterous songs from the Yankee ship just entering, the cooper is hammering at the casks on the quay, the chains of the cranes, loosed of their weight, rattle as they fly up again; the ropes splash in the water; some captain shouts his orders through his hands; a goat bleats from some ship in the basin;
and empty casks roll along the stones with a hollow drum-like sound."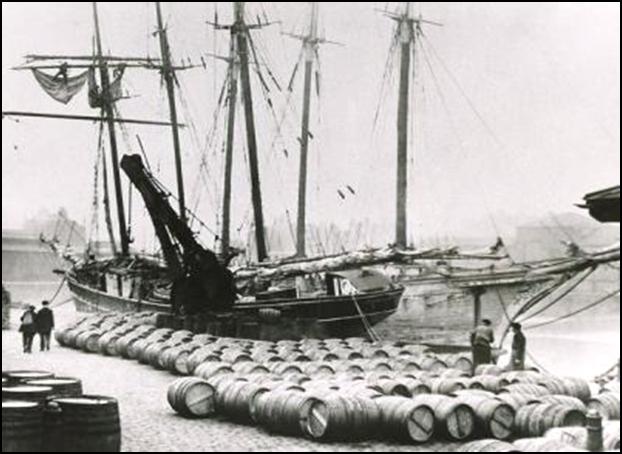 1864


John re-joined the Panthea on 15th Feb 1864 for another voyage under Captain John Jones. He must have impressed Captain Jones on the previous
voyage as he was now promoted to Bosun with his wages increased to £3 per month

[24]

. The Mate was William Jones (26578) of Cardigan and the
ship's cook & steward was William Arter (18) of Borth who later went on to become master of the Schooner Cambrian

[25]

. By hiring a capable
young man from Borth as cook, Captain Jones was obviously taking no chances after the problems of the previous voyage.

Of the rest of the crew, most were from London and the remainder came from various British ports. David Aitchison (29 of Dundee) deserted on 22nd
Feb at Gravesend with his £2 10s wages advance.

The Crew Agreement allowed for a journey of up to 2 years to ports in the Indian Ocean. After a voyage of just over two months they arrived in Cape
Town, S.Africa, on 1st May. They had a relatively quick turn-around were ready to leave by the 28th May. Unfortunately five of the original crew left
the ship on this day by mutual consent, forcing Captain Jones to look for replacements which he hired by 30th May, all of whom stated their previous
vessel as the Grahamstown (44337 of Plymouth, built in 1862).The Panthea left Cape Town on 31st May.
No other port consulate stamps are recorded on the Crew Agreement so it is not known where they went in the following 5½ months, but they did not
arrive back in London until 21st Nov 1864 when the crew were discharged.
(After this voyage John Jones left the Panthea to captain other ships, culminating in the 1,132 ton Hawarden Castle (63186) from 1869 to 1872 when he died in Calcutta on 5th Dec.[26] In 1865 the Panthea was possibly transferred to Guernsey, but she does not appear on Lloyd's Register after 1866)

By 1864, John Jenkins could have travelled home on thenew railway which had just reached Borth. It brought many changes to the village, including a large number of new buildings like the Cambrian Hotel and Railway Terrace and an increasing number of Victorian holidaymakers in the summer months.

1865
After John Jenkins left the Panthea, he was at home for just 3 months until 27th Feb 1865 when he sailed on the 96 ton, 87ft schooner Jane Owens(20667)
which, like the Francis Poole, was built at Aberdyfi (in 1858) by builder John Jones. The captain was Richard Williams (29309)[27] of Aberdyfi and the
owner was again David Jones of the 'Slate Office', Machynlleth[28].
They sailed from Aberdyfi on 8th March and arrived in Cardiff two days later, then sailed on 17th for St. Malo, leaving there on 12th April and arriving
in Dublin on 20th and finally heading for home on 29th April and arriving in Aberdyfi on 1st May.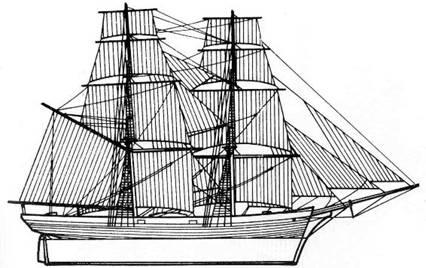 John only completed this one trip on the Jane Owens before leaving to join a much larger
vessel on its maiden voyage with a crew of experienced sailors from Borth.At the age of 25,
John signed on as an Able Seaman on the Brig Rowland Evans(53031) on 5th July 1865.
This was one of the largest vessels built on the river Dyfi.
The Rowland Evans was owned by John Evans (of Morben Isaf), named after his father,
and was built at Derwenlas. She was 208 tons, 101ft long, with 2 square rigged masts and
capable of oceangoing voyages.
A few months before John signed-on the Caernarvon & Denbigh Herald carried the following
report on 1st April[29]:

"MORBEN, NEAR MACHYNLLETH – Launch – On Tuesday last a fine brig was launched from the building yard of Mr. John Evans, Morben
Wharf. This fine vessel is classed A1 at Lloyds for twelve years and is to be commanded by Captain John Evans, lately master of the Sarah of Aberdovey. She is well built and reflects no small degree of credit on Mr. John Jones of Aberdovey, the master builder. The cheers of the crowd
who witnessed the ceremony were deafening as she glided slowly, yet majestically, into the water, and after the launch the hospitable owner,
Mr. John Evans, entertained a host of friends at Morben where every success was drunk to the new vessel"


then Three months later, on 12th July[30], she set sail from Swansea and arrived in Barcelona on 10th August, where she stayed until the 26th and then
sailed to Cadiz, arriving on 5th Sept. She sailed on to Pomaron(modern name Pomarao).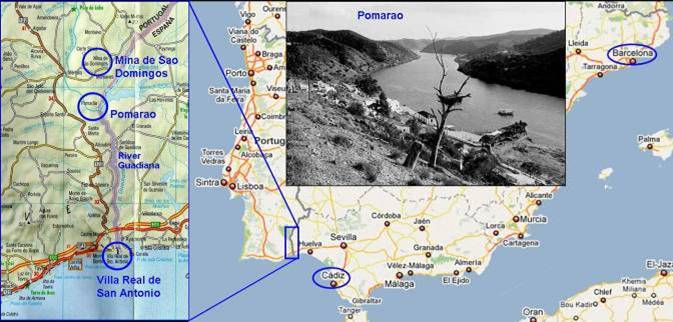 Pomarao is about 25 miles up the River Guadiana (which defines the southern end of the border between Spain and Portugal). A likely export from
Pomerao was copper or sulphur ore from Mina de Sao Domingos further inland.
At the mouth of the river is Villa Real de San Antonio and the British Vice-Consulate recorded their arrival here on 13th September[31]. No departure
date is recorded but she arrived in Waterford on 7th Oct and finally Liverpool on 12th Oct 1865. The crew were signed off the next day and below is
a list of their names and other details from the Rowland Evans crew-list. Note that all but the ship's boy were born in Borth. It's amazing that the
majority of them later became captains and shows just how good this generation of Borth seamen were.
| | | | | | | | |
| --- | --- | --- | --- | --- | --- | --- | --- |
| | Age | Born in: | Year | Last Vessel | Capacity | Wages | Notes |
| David Jenkins | 24 | Borth | 1841 | Ocean Bell | Mate (31826) | £4-15s | Later Captain (024626) |
| David Evans | 28 | Borth | 1837 | Acorn | Bosun | £3-10s | |
| John Jenkins | 25 | Borth | 1840 | Jane Owens | AB | £3-2s-6p | Later Captain (81601) |
| John Jenkins | 22 | Borth | 1843 | Osprey | AB | £3-2s-6p | Later Captain (86014) |
| Hugh Davies | 22 | Borth | 1843 | Mary Ellen | AB | £3-2s-6p | Later Captain (94677) |
| William Jones | 18 | Borth | 1847 | Ellen 'James?' | OS | £2-10s | Later Captain (94000) |
| Thomas Pryse | 19 | Borth | 1846 | Miss Evans | OS | £2-5s | Later Mate (94556) |
| Richard Jones | 15 | London | 1850 | First Ship | Boy | - | |
All of the vessels listed as previously served on were registered in Aberystwyth.


The voyage must have been reasonably uneventful as no log book entries were made (unlike the Panthea voyage). The captain was John Evans (31368)
of Borth, born in 1828, who continued to captain the Rowland Evans for 17 years.
(until 12th Sept. 1882 when she foundered in Cardigan Bay, 20 miles South West of Bardsey Island, for which John Evans lost his Master's certificate for 12
months - "The vessel made water on her outward passage to Antwerp but was not repaired there and on her return voyage she again became leaky
and was abandoned. The Court of Inquiry found that the vessel should have been overhauled and repaired before leaving Antwerp and that she
was prematurely abandoned. They suspended the master's certificate for 12 months and censured the mate for not protesting against the action of
the master in abandoning the vessel when there was a moral certainty that she could have been got into port" [32] ).
The voyage in the Rowland Evans was John Jenkins' last as Able Bodied seaman, since after he left the vessel he travelled to Cork in Ireland to sit his
Only Mate examination on 28th December, qualifying on 1st January 1866[33] and given the Certificate Number 81601.

1866
John signed on in February 1866 in Liverpool as Mate of the Acorn(49661) (schooner, 112tons, 83ft long, built in Aberdyfi in 1864). The Acorn was again
owned by John Evans (Morben) and captained (from 1864-1879) by John Rees (52649) of Borth.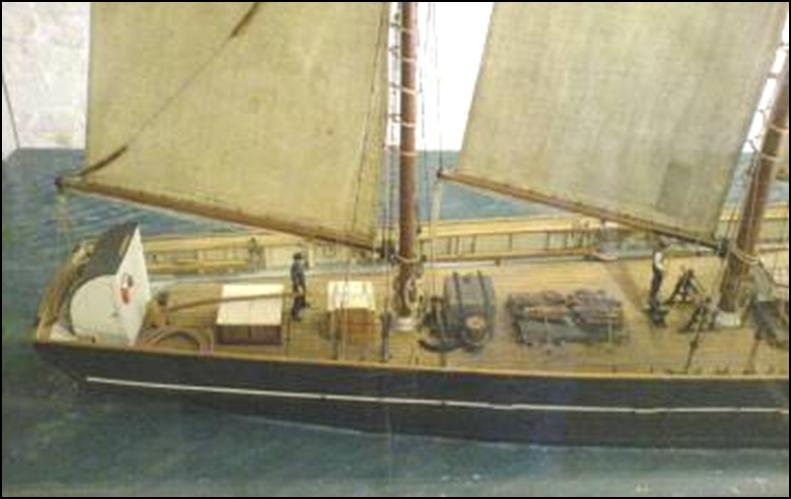 The model schooner pictured here is slightly larger (129tons) than the Acorn but helps to illustrate just how open the decks were of a vessel this size[34].


The helmsman at the rear operating the tiller (sometimes wheel instead) had no protection from the elements and in rough seas he often had to be tied on to prevent being washed overboard.


The companion way in front of the helmsman led down to the rear cabin of the captain and mate. The rest of the crew lived under the focs'le in fairly cramped and miserable conditions.

The grey tank contained 300gals of drinking water and the structure at the aft end provided locker space and the toilet (heads).

Most of the space below the deck was taken up by the cargo holds and sail, chain and storage lockers.
The structure in front of the ship's boat was the galley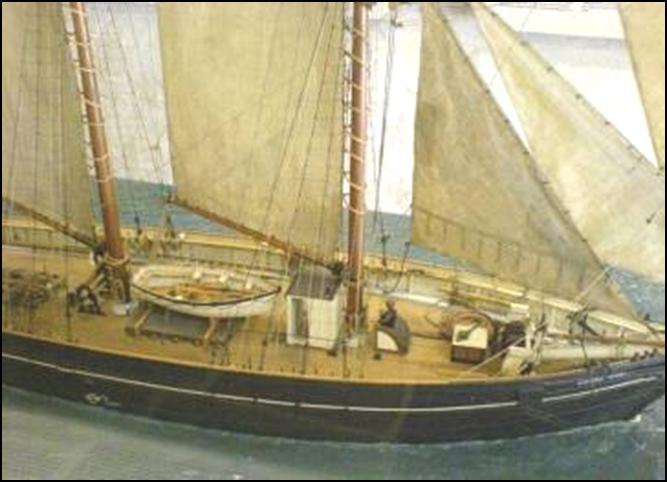 The pictures below show the saloon, Captain's and Mate's cabins at the aft of the vessel. These are from the reconstructed schooner Kathleen & May of a similar design to the Rhoda Mary in the model above. John would have had the relative luxury of such a cabin on the Acorn now that he had obtained his Mate's certificate. The sparsity of the crew accomodation is also shown below (from a Spanish schooner)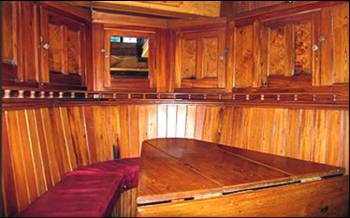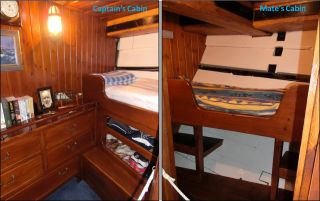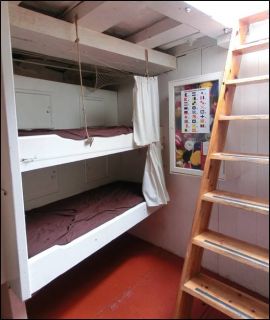 The drawing below shows the layout of this type of vessel[35]. Most of these ships were built of Fir wood (imported from the Baltic or America) and
clad in Yellow Metal sheathing[36] (made from 60% copper and 40% bronze) fitted over the planks below the waterline to resist fouling. The planks
were fastened with thousands of wooden pegs (treenails) to a strong wooden framework held together with iron bolts.



John's first voyage on the Acorn lasted just over 2 months and consisted of a return trip from Liverpool to Portugal where he stopped at Lisbon and then Pomaron. The Acting British Consul in Lisbon recorded their arrival on 25th February, and the British Vice consul in Villa Real de San Antonio (at the
mouth of the Guadiana) recorded their arrival on 23rd March and departure on 5th April. They returned to Liverpool on 24th April 1866.
John earned £4-5s per month and the crew consisted of 3 Able Bodied Seamen, 1 Ordinary seaman and a 14 yr old boy (Hugh Davies from Aberdyfi)
on his first voyage. Another crewmember deserted the ship before it sailed, having received an advance of £1-10s. The same food allowance as usual was described on the Crew List and it was made clear (again as usual) that "no grog was allowed on the vessel".
John's next voyage on the Acorn was on the 25th May from "Liverpool to Genoa and hence to ports of loading and discharge in the Mediterranean and
continent of Europe". They arrived in Genoa on 3rd July and left on 17th July as recorded by the British Consul. The consulate in Porto-Torres on the
north coast of Sardinia then recorded them on 16th August. This port handled fruit, wine, olive oil, zinc and lead.
They returned to Cork in Ireland on 19th September. John and Captain Rees sailed with an Able Seaman, 2 Ordinary seamen and a boy of 16, and John continued to earn £4-5s / month [37].
John stayed on the Acorn for the following three voyages:
Seven months: between 19th Oct. 1866 and 10th Jun. 1867 to Lisbon and the Rio Grande,
Two months: from 19th Jul '67 to 11th Sep.'67 to Lisbon and Real de San Antonio
Two months: from Oct'67 to Dec'67 to the Azores (St Michaels) after which he finally left the vessel.

(The Acorn continued trading up until 1917, when it was shelled & sunk by a German submarine. The crew were allowed to escape in the ship's boat)

1868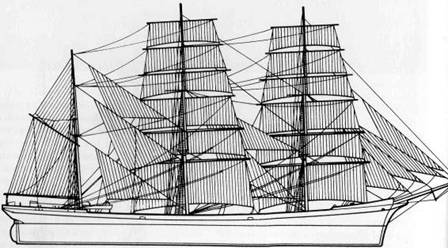 At the age of 28, John became the Mate on the Jane Rowland(56400),
a 318 ton Barque, built in 1868 in Aberystwyth and owned by Edward
Rowland.
The Master was Richard Hughes (25631) born in 1840, also in Aberystwyth,
but now living in Borth.
John was on the maiden voyage of the Jane Rowland starting on 14th Apr.'68 from Cardiff.
The cargo was probably coal (possibly dug my my father's ancestors) and it may well have been
loaded from the newly completed Penarth docks (below)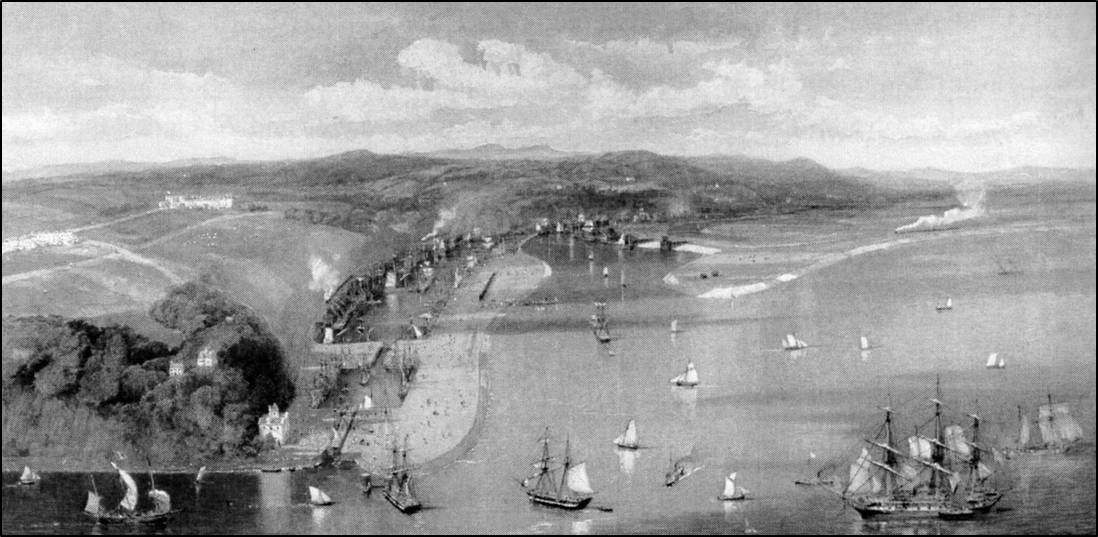 On this date he sailed from "Cardiff to Bombay and thence to any port or ports on the coasts of India, China and or the Islands or any countries adjacent to the coasts of Africa".
The British Shipping Officer in Bombay recorded the vessel being there from17th Aug. to 8th Sep. 1868.
This means it would have taken 4 months (120 days) to sail down to the Cape of Good Hope at the southern tip of Africa and back up the Indian Ocean to Bombay on the east coast.
The Jane Rowland then sailed on to Burma and the port of Bassein (now Pathein), arriving on 13th Oct. and leaving on 5th Nov. 1868.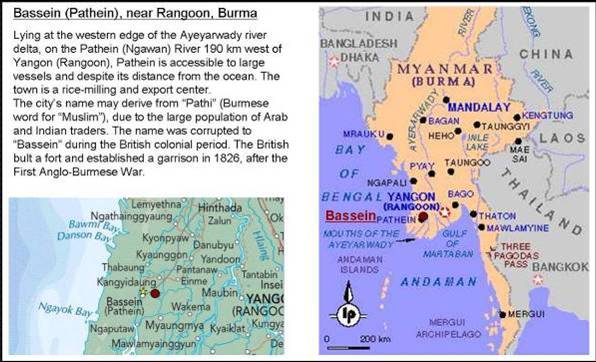 The Jane Rowland would have loaded up with rice in Bassein before heading back to Europe. It sailed for about 5 months until it returned to Amsterdam
on 17th April 1869. John was paid £5 per month on this voyage and sailed with a Boatswain, Carpenter, Cook/Steward, 3 Able Seamen, 1 Ordinary
Seaman and two apprentices aged sixteen and seventeen [38].


1869
John stayed on the Jane Rowland when it sailed from Amsterdam to Newport from 24th April to 18th May where he was discharged, 13 months after
leaving Cardiff. (The ship eventually foundered in an Atlantic storm in 1879. The Captain was Edward Jones (33323) of Aberystwyth – the ship was
'strained' in a gale sailing from New York to Kings Lynn and was abandoned in the middle of the Atlantic with no loss of life [39] .)
John then travelled to Cork in Ireland where he sat the examination to become a Master Mariner on 10th July 1869 at the age of 29.
His certificate no. 81601 was issued on 17th July in Aberystwyth. He claimed 13 years of sailing experience and his address was now listed as Victoria
House, Borth (his parents' house [40] ). A map of Borth with the house names from the 1901 Census can be found here - <Borth House Map>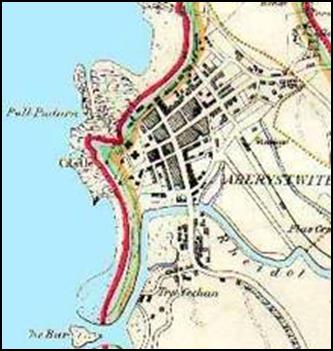 1870
John's first voyage as a captain was on the M A Jones(56410). She was a brand new two-masted brig of 192 tons, 102ft long by 23ft wide with a 12ft hold and a square stern. She was built and registered on 18th Jan.1870 in Aberystwyth by John Jones of Trefechan (on the southern bank of the river, facing the town, though most of the shipbuilding took place on the northern bank). John Jones was a shipbuilder, born in 1809 in Machynlleth and he was originally a cooper. The vessel was named after his first daughter Mary Anne. John Jones initially held all 64 shares in the vessel, though he sold 36 of them on 7th July to Thomas Hugh Jones of Aberystwyth, a painter [41].

The Aberystwyth Observer for 28th Jan 1870 contained the following article:

"The Aberystwyth Ship Race – Some considerable interest was caused among the nautical population of the town on Thursday last, from the
fact that two brigs that had been built at the port were going to start the same time on their very first voyage after being released from the
stocks and fully manned and equipped. The largest of the brigs is the M A Jones of some 330 tons burthen, Capt. Jones, and built by the
Master's father, who is a shipwright belonging to the port. The other brig is a smaller one, the
J Llewellyn, commanded by Capt. Llewellyn, and built by Messrs Williams & Jones, Shipwrights of Aberystwyth, and of about 270 tons register.
They are both bound on a foreign voyage via Newport, Mon., where they will take in a cargo of coal and iron. The former is bound for Alcudia
and the latter for Mottaro. Several people assembled to witness them starting on their trial trip with a pretty fair breeze. The larger brig has been
on the stocks for several years and the smaller one for rather a less period. They are evidently very strongly built, so as to present solid
resistance to the violence of the winds and the waves. The crews of the respective vessels entered into a friendly competition as to which of them should arrive at Newport first by way of testing their sailing qualities. The owners and the friends and relations of the crews attended to bid them
adieu and wish them a prosperous voyage on their first trip."

I don't know who won the race but Captain Jones only sailed as Master of the M A Jones as far as Newport since the crew list for the first foreign
voyage shows John Jenkins as the captain, with John Jones now acting as the Mate. This swapping of positions between John Jenkins and John Jones, on
the same ship, occurred again later on the Fairy.
John Jones (81444) was born in Aberystwyth in 1839, so he was almost the same age as John Jenkins.
The crew agreement was signed on 2nd Feb. to trade from Newport to the town of Alcudia (on the west coast of Majorca) and other ports in the
Mediterranean.
She left Newport on 19th Feb. and (inexplicably missing out Alcudia) arrived at Girgenti on the west coast of Sicily 14th Apr. where she stayed for nearly
a month before stopping briefly in Licata and then sailing back to Newport via Falmouth [42]. They arrived home on 15th July.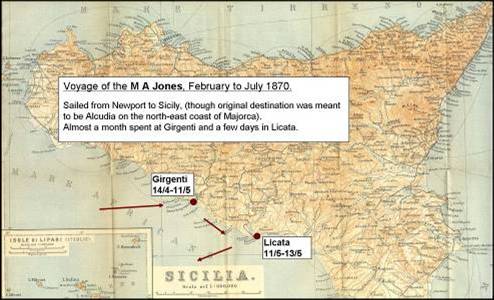 The crew of the M A Jones were:

John Jenkins (29) Master, 81601
John Jones (30) Only Mate, 81444 £5-10s

David Davies (24) Bosun, £3-5s (in adv.)

Thomas Edwards (61) Cook, £2-12s-6d
Bonner Evans (29) Carpenter & AB, £3-10s.

John Griffiths (22) AB, £2-12s-6d (in adv.)

John Brodie (23) AB, £2-12s-6d (in adv.)

William Walters (21) OS, £2 (in adv.)

David Lewis (17) OS, £2 (in advance)

Michael Fitzgerald (19) OS, £2 (in adv.)




As Master, John would have earned about
£8 / month

[43]

and possibly a percentage of
the profits from the voyage.


Most of these crewmembers were from the Aberystwyth area except for William Walters from Southampton who deserted, with his month's wages
advance, before the ship left Newport. The Log Book records all the other crew to be of very good character and no incidents were recorded.
John's second voyage in the M A Jones proved to be slightly more eventful.
On 12th Aug. he sailed, again from Newport, to Smyrna on the Turkish Mediterranean coast. Then in November he sailed on to Gemlikon the Sea of
Marmara and picked up a cargo of chrome ore.
On the return journey, off Cape Matapan in Greece, the M A Jones was 'run down' and severely damaged by the Finnish (or Russian) brig 'Lion'.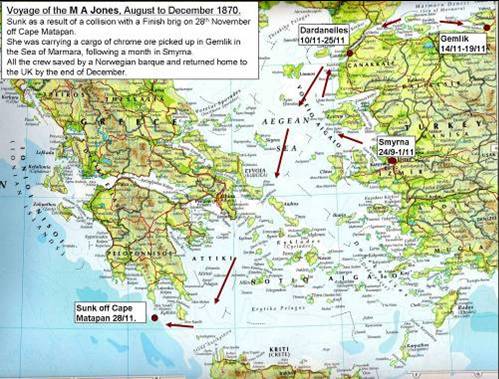 The damage was so great
that the M A Jones had to
be abandoned.
The crew were saved by
the Norwegian barque Chimea
which was commanded by
Captain Pedersen of Stavanger.
They stayed on the Chimea for
14 days but it was running low
on provisions with 9 extra mouths
to feed, so they were transferred
to the Italian barque 'Si'.
Its captain Fortunato Cuneo of
Genoa had sailed the Si from
Constantinople so when they
landed at Cagliari in Sardinia they
were quarantined for three days[44].

They probably found passage quite quickly on another ship to get back to Aberystwyth. It's interesting to imagine how the builder and owner John
Jones greeted his son John (the Mate) and John Jenkins when they came to explain to him how his brand new ship had been lost - it wasn't even a full
year since it had been built.
The accident was recorded in Lloyd's List and the Parliamentary Records (at the Guildhall Library) noted that the captains who rescued the crew were
each rewarded by the British Government with a pair of Binoculars worth £6-6s (at today's value, about £450).
I could not find any mention of the loss of the M A Jones in the Aberystwyth papers around the Christmas of 1870/71, but as a matter of interest, the
stories that were covered included the latest on the Franco-Prussian war & the Siege of Paris, the death of Alexander Dumas and the ongoing search for
Dr. Livingstone in Africa.
1871
John married Anna Maria Williams on 1st May 1871 in the Parish Church of Llanfihangel Geneur Glyn (Llandre) in the presence of John and Ann Williams (probably relatives of the bride. Anna Maria's father was William Williams, a watchmaker). On the marriage certificate John recorded his profession as
Master Mariner and his father David's as Carrier.
John is not recorded in the 1871 Census (taken on 3rd April) but his parents are still living in Morfa Borth (aged 70 & 67), along with his sister, now Anne Williams (38) with a son John D Williams aged 5. Mary Lewis (14) is still living with them as a lodger and scholar.
John is recorded as joining the Fairy(52765) as Mate on 28th April, but clearly left to get married and returned before she sailed to Denmark, returning on
21st Aug.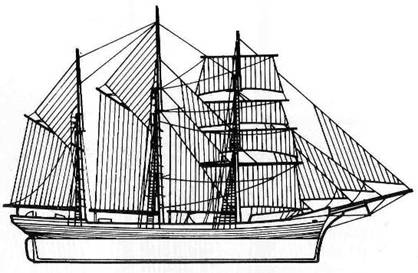 The Fairy was a three-masted schooner of 229 tons; 125ft long by 24ft wide with a 13ft hold, built in
Littlehampton in 1864 and owned at this time by Thomas Jones (1803-1880) and registered in Aberystwyth
(having recently been bought from T. Martin and Co, London).
Although described as a schooner, a later picture shows the Fairy with a barquentine rig with a full set of square
sails on the foremast and fore-aft rig on the main and mizzen masts.
The captain was John Jones (81444) of Aberystwyth – the same one who sailed with John Jenkins as Mate
on the M A Jones the previous year.
On 6th Oct. John Jenkins again joined the Fairy, but for some reason, left the ship on 12th before it sailed
for South America [45].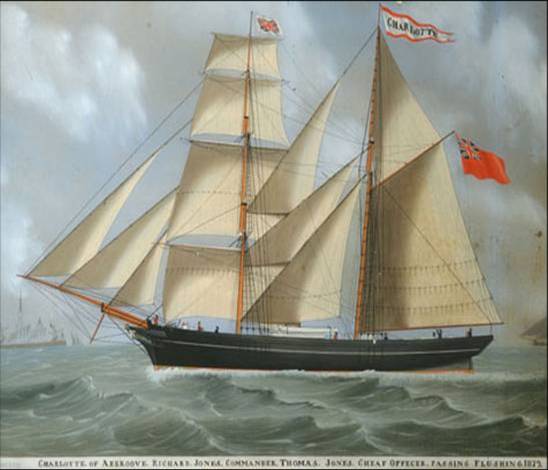 1872
On 11th March John sailed for the
Mediterranean on the Charlotte(44735),
a 148 ton Brigantine of 88 feet in length,
built in Barmouth in 1862 to the order
of Thomas Daniel of Aberdyfi and
captained by Richard Jones (32878)
born in Borth in 1841.
John and Richard grew up 2 doors
away from each other.
John was the Mate, and they returned
on 12th July[46].
(The Charlotte later foundered in 1880
travelling from Pomaron to Plymouth
with 245 tons of sulphur ore – she
strained in a heavy cross sea, sprang
a leak and sank[47] )
John and Anna Maria had their first child Gertrude, known as 'Rene', on 23rd August 1872[48]. John was clearly at home since he went to
Aberystwyth to register the birth on 2nd Sept. They were then living in Llandre / Llandref, just over a mile inland from Borth.


1873
From May to October, John was Captain of the Helena(42586), a 98 ton Schooner; 78ft long; built in Aberystwyth (1862) by John Jones (Trefechan)
(who must have now forgiven John for losing the M A Jones).
The first voyage was from Limerick to Santander and back to Newport from mid May to 21st Jun.
Then, on 31st July, he sailed from Cardiff to Madeira and on to Saffi, just south of Casablanca in Morocco before returning to Glasgow by
13th Oct 1873 [49].
The only events recorded in the log book were: 'draft of water leaving Cardiff – 11ft aft, 9ft 3in forward; leaving Madeira – 8ft aft, 7ft 6in forward;
Saffi to Glasgow – 10ft aft, 9ft 10in forward.' This seems to imply that the heaviest cargo was picked up in Madeira. An apologetic note was attached
to the log book and stated: "I am sorry I omitted to get the Mate's signature to the statement regarding draft of water", signed by John Jenkins,
Glasgow 25th Oct.1873.
I presume this requirement to record the draft preceded the painting of a Plimsoll line on the side of the vessel. A Royal commission on un-seaworthy
ships was established in 1872, and in 1876 the United Kingdom Merchant Shipping Act made the load line mark compulsory.
John Jenkins left the Helena in Glasgow, but extracts from the log book[50] (below) for the next voyage illustrate the dangers faced every day by the
sailors on these small vessels.
After John left the ship in October, Captain Roderick Edwards of Aberystwyth took command of the Helena and sailed her to Gijon and Santander
on the north coast of Spain. On the return journey, on 21st December at 8.15 pm they were at 51 16' N and 5 49' W – south west of Pembrokeshire,
to the west of the entrance to the Bristol Channel – when the Log Book records: "At 8.00pm wind W.S.W. increasing to a strong breeze and squally
and very dark with heavy topping sea. All hands on deck to take in sail. Took in square sail and hauled out the topsail reef tackles. Thomas
Lyeland AB and James Smith, cook & seaman, went up to reef the sail. James Smith was on the lee cross-trees on his way to the lee yard.
The ship gave a heavy roll and he fell overboard. He was not seen in the water but heard his crying far astern. Could not send any assistance
as the night was dark and a heavy sea on and the ship was going at the rate of 8 knots through the water"- signed by the Master, Mate
(Lewis Jones of Aberystwyth), AB Thomas Leyland and OS John Brown.
James Smith's possessions were listed and show just how little the average sailor of those days owned:
1 chest; 4 pairs of trousers; oilskins – 1 jacket & trousers; 1 shirt; 1 canvas jumper; 1 jacket; 2 caps; 1 vest; 2
blankets; 3 pairs of socks; 1 pair of shoes; 1 Bible and other sundry small things consisting of thread and cotton Not much to send back to his family
(or auction off amongst the remaining crew) along with the 16s-11d as the balance of his wages after deductions for a previous advance, some tobacco
and postage for three letters. He was only 25 years old.

After leaving the Helena in Glasgow on 25th Oct 1873, John rejoined Capt. John Jones (81444) on the schooner Fairy (52765) on 13th December
as the Mate. This is again the same John Jones that previously served as John Jenkins' Mate on the M A Jones.
The Fairy had been surveyed by Board of Trade inspectors in London in November following its previous voyage from Bangor to South America to
London. Lloyd's register of shipping notes: "anchors & chains proved" as part of the survey and the ship continued to be rated A1.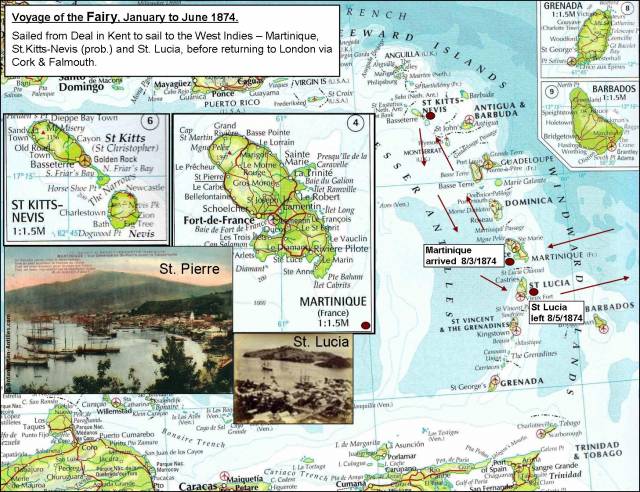 1874
By the 27th January 1874, the Fairy
had moved from London to Deal in
Kent, from where she sailed for
Martinique in the West Indies,
arriving there on 8th March[51] having
crossed the Atlantic in just 5 weeks.

The Crew List for this voyage shows
12 crewmembers in addition to the
captain and mate.
The Bosun was David Lewis (34)
of Aberystwyth who had stayed on
the Fairy from the previous voyage
and the Cook & Steward was
Christian Hansen (22) of Copenhagen.

They also had six AB seamen and
two Ordinary seamen.
The British crew were from many
different towns in the UK (Falmouth,
London, Chelsea, Liverpool,
Northampton, Plymouth) and two
other seamen were from Sweden.




A good impression of what it was like to arrive in Martinique is well described by Henry Hughes[52]:
"…The gathering power of the morning sun soon cleared a misty horizon and we saw three interesting-looking tropical islands loom into
view quite close by. They were Martinique, Dominica and St. Lucia. On the north point of Martinique was the great volcano, Mont Pelee,
which seemed to fill the sky in that direction. On the other side at the foot of the volcano, we knew, stood the little town of St. Pierre which
later was to suffer a tragic fate, though as yet there was no sign of this[53].
…The captain gave the rocky spurs of the volcano that jutted irregularly into the sea a wide berth, with the result that the fast-running
current between the two islands and the following wind brushed us quickly many miles to leeward. We eventually opened up the town and
found we had overshot it by many miles. This meant beating to windward. Tacking ship every half-hour was most fatiguing on such a hot
day, but we were amply rewarded for our labour.
With each tack this rugged island unfolded its many beauties. The afternoon sun was now shining on those gaping gorges, giving a
marvellous effect of contrasted light and shade. We saw the houses terraced on the lower slopes surrounded by trees. Huge rum and sugar
factories hove in sight. For the last two miles our sails had been filled with a breeze laden with the peculiar and fascinating scent of rum.
The rich aroma of molasses and the perfume of mellow fruit and spices filled our nostrils.
The nearer we got the more the breeze fell away and the sea became like a millpond. Dozens of canoes paddled by negro boys swarmed
to meet us, the boys entertained us with their intrepid diving.
…At the set of sun our day's toil was done and our passage safely over. We anchored in deep water only a hundred yards from the shore
and right at the foot of the great volcano."
From Martinique they sailed to Newcastle on St. Kitts Nevis and then back south to St. Lucia, from which island they took on a ship's boy of 15
called Felix Jean Balis(t) on 9th May. The Fairy then sailed for Britain and arrived in Queenstown (now Cobh, near Cork) in Ireland on 30th May
after a quick crossing of 3 weeks and finally arrived in Falmouth by 3rd June 1874.
The Fairy then sailed from Falmouth on 16th June, arriving in London on 20th June where she took on a cargo for Clyde-side, Glasgow, arriving
around 30th July 1874.
The next day, John Jenkins took over as captain of the Fairy[54]. Why John Jones left the ship in Glasgow is a mystery, but perhaps he was unwell,
as he only did one more long distance trip as captain and died a year and a half later in Aberystwyth on 2nd December 1876.
John sailed the Fairy back from Glasgow to Gravesend in London, arriving on 3rd August 1874.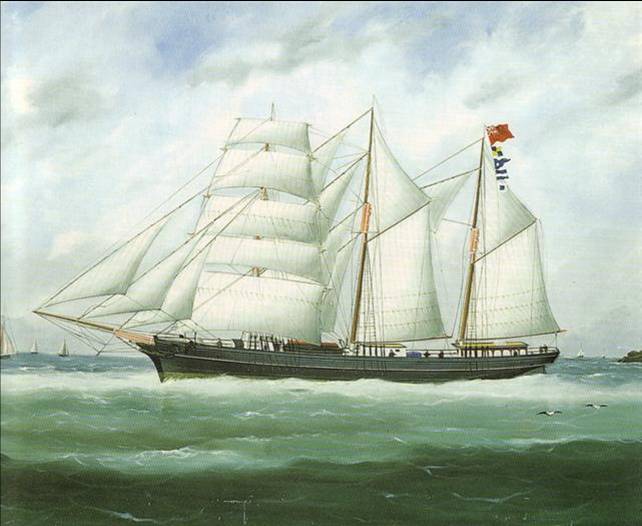 Painting of the Fairy(courtesy Terry Davies) probably painted after 1876 as this shows a deck structure which increased registered tonnage to 240t (1875/6) from the previous 229t (1874/5) as recorded in Lloyds Shipping Register.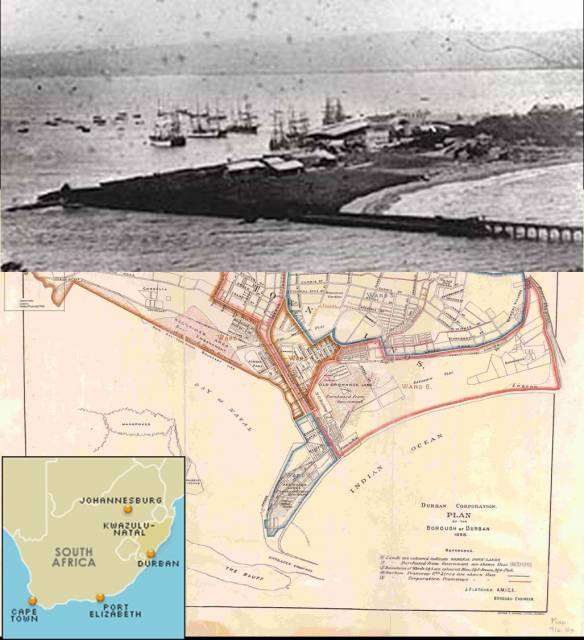 By 1st September 1874, they were loaded again and the
Fairy had left Gravesend for a journey to South Africa
and Burma that was going to last a year and three months.

The Fairy passed through Deal on 7th Sept. and sailed
down the coast of Africa and around Cape of Good Hope
to arrive in Natal / Durban harbour on 1st Dec. after a
passage of nearly 3 months.

They stayed in Durban for a further 2½ months, presumably
waiting for a cargo. During this time three crew members
were discharged and four others taken on, before they finally
departed for Bassein (nr. Rangoon in Burma) on 12th Feb. 1875.

They arrived in Bassein on 7th May and loaded quickly with
rice before departing on 22nd May. John would have been
familiar with Bassein from his visit seven years before in the
Jane Rowland.

They did not get back to Falmouth until 2nd Oct. 1875
(after a voyage of just over 4 months – much slower than the
Panthea voyage) and then sailed on to Granton (Edinburgh, see
picture below) by 21st Oct. to end the journey. The complete
voyage lasted for one year and three months.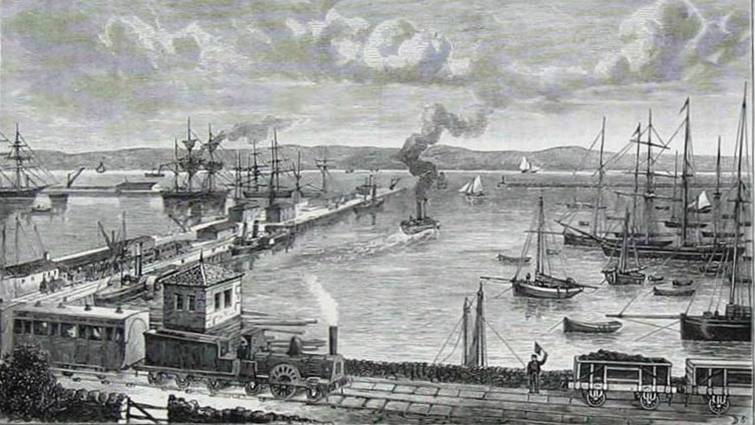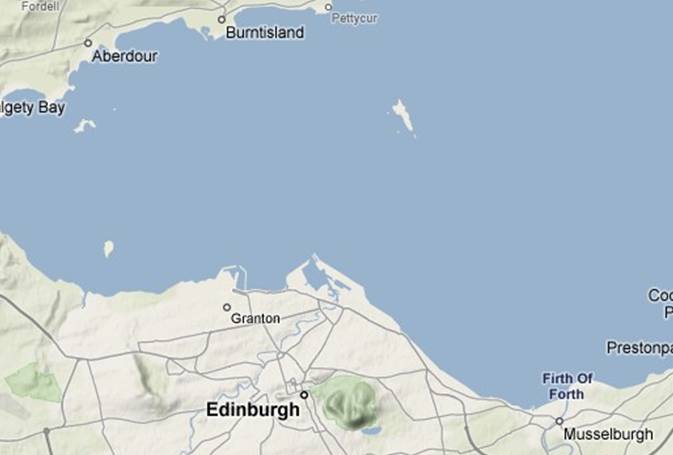 Unfortunately, on the night of 8th Oct, just 13 days from the end of the voyage, John lost his Boatswain – Evan Jones (age 20, from Newquay, who
joined the Fairy in Durban) – fell overboard and drowned. This incident is not described in any detail in the surviving papers, but it was probably very
similar to that described previously on the Helena.
Evan Jones likely perished in rough weather a few days after leaving Falmouth, but John Jenkins must have experienced many other bad storms during
his 30 years at sea.

Just how rough it could be in these small vessels in a major storm is again graphically illustrated by Henry Hughes[55]. He describes experiencing an
Atlantic storm on the Pride of Wales in the following passages:


"I have often been asked how these small vessels survive these terrible storms… a sailing vessel has the great advantage that she can retain
her prow-on position by sail-trimming, and remain in that position even without touching the helm for days and nights on end. When a sailing
vessel is hove-to, her strongest and most buoyant part faces the onslaught. Her sails are reduced, so that her speed is just enough to keep her
in that steady position and under control. Every time a wave breaks against this buttress she is hurled back; in other words she recedes with
the blow. Providing the sea does not batter its way through some weak spot through her superstructure into the interior, she is safe as a house."
The change from running before the wind in heavy seas to heaving-to, however, was obviously difficult:
"All hands looked anxious as they were ordered to climb many feet up the mizzen-rigging. Here we would be clear of the danger of being
washed overboard in the event of a sea being shipped when broadside on. The only man to remain on deck was Olaf, the helmsman…who
was lashed securely to the wheel…we were filled with admiration as we gazed down at this solitary figure."
The captain had climbed higher to judge from the waves the best time to heave-to, but in this case he was overtaken by events as a
"large sea could be seen towering above the others, tearing after us like a maddened monster seeking prey…amid the din of roaring torrent
and the howling of the wind the captain's voice shrieked: 'we're going to have it! It's coming! Look out!'.
Poor Olaf. It was not difficult to imagine his feelings as he saw through the corner of his eye five hundred tons of infuriated ocean scowling
spitefully at him… The Pride of Wales made a gallant effort to
reach the top, but being so heavily laden and her speed greatly reduced, she was more or less at the mercy of big seas like this. Down it came,
crash! Hitting us slightly on the port quarter. The poop deck was completely submerged. The ships timbers shivered ominously. Olaf's head
peeped over after a while, but in the boiling and seething mass he seemed complacent enough … The ship now had broached-to partially on
her own account, so that before more trouble arrived we were able to bring her nose into the storm."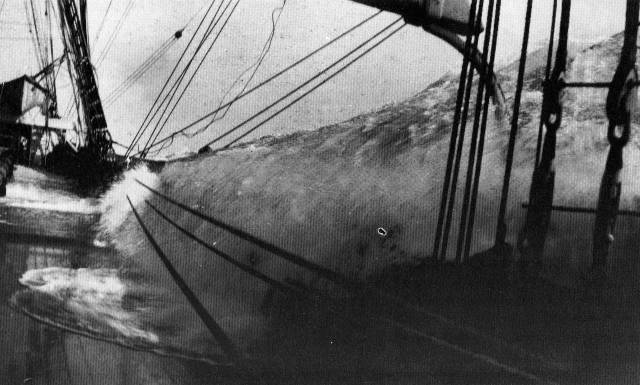 "Riding out a gale in this way is a monotonous business. A three hundred ton vessel is small enough when it is possible to use all the
accommodation that her size admits, but on these occasions we were huddled together on the poop deck, which incidentally was the most
exposed part of the ship. There we grouped, pinned, and tethered in a standing position against the rigging or a mast, ducking continuously
to avoid the full force of a whack in the face from a chunk of sea blown by the gale."
"To hold the body, poised uncomfortably on relaxed and limp knees, was the only method of retaining balance and counteracting the jerky
movements of this storm tossed coracle. Driving rain, too, soon found its way between the neck and muffler to make doubly sure that the
discomfort was complete. But perhaps the worst suffering was caused through the constant hissing, and shrieking of the wind round one's
very brain – not a moment's respite – everlastingly on, the process went. I thought it must eventually drive us all mad. It seemed to chisel
its way into one's head. This was torture in itself.
We had to make frequent sorties to man the pumps. Even all this would have been tolerable if, when the watch below came, comfort, warmth
and food were at hand; but after a few hours of storm conditions, cooking has to be abandoned through the sheer impossibility of keeping a
fire going. A sailors stock of clothing, too, is soon exhausted, with the result that he has no chance of a change after two or three days of bad
weather … bed and bed-clothing suffer the same fate as wearing apparel. Human endurance knows no measure in small deep-sea sailing ships."

Storms could be equally bad around the shores of Britain. In fact the two incidents I've recorded of men falling overboard in bad weather occurred in
the Irish Sea. The effect of this sort of weather on a small ship was captured in a painting by Lionel Percy Smythe[56] in 1874 after he took passage on
a coastal schooner in storm. All hands to the pumps in this case included the Captain's wife, while another crew member is running up the distress signal,
an upside-down ensign.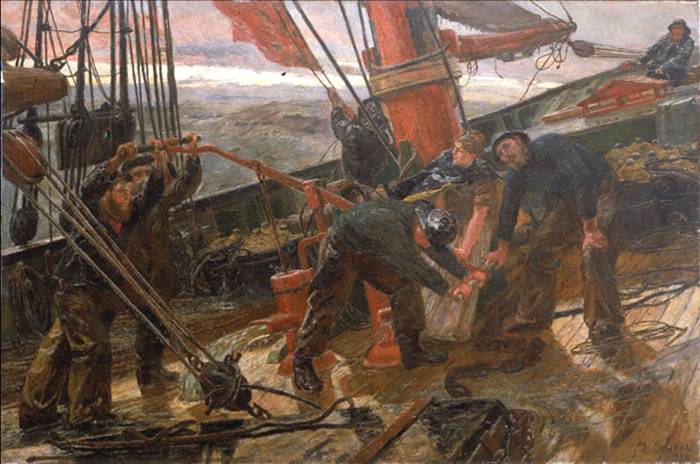 1876
According to Lloyd's Captains Register, John did not make a foreign trip in 1876, so he presumably sailed on local journeys around the coast of Britain.
John and Anna Maria had their second child, Alice Sophia, on 3rd September 1876. The birth was registered and signed by Anna Maria in October in Aberystwyth, so John was probably off at sea again.
In the same year a contemporary impression of Borth is available. Uppingham School (in Leicestershire) suffered an outbreak of 'fever' (typhoid) and had
to be evacuated while sanitary conditions were improved. The boys and masters were moved to the Cambrian Hotel in Borth, largely empty in the winter
season, and turned it into a temporary school. Some extracts from the report follow[57]:
"Borth, three-quarters of a mile of straggling dwellings, which vary in scale and character from the primitive mud-cabin of the squatter to the
stately hotel which formed the headquarters of the school. The little town is irregular even to quaintness, without being picturesque. Its houses
are not grouped according to size and character, but dropped as it were anyhow, in chance collocations, tall and low, thatched and slated
together. Two or three gigantesque meeting-houses, featureless and sombre, domineer over the roofs around them. One or two others of a less
puritan design, and not out of character with the church on a knoll a furlong off, compensate their severer rivals. The shape of the village is
determined by the narrow ridge of terra firma, the mere heaping of the tides, between the quaking march and the encroaching sea".
At the end of the year, a great gale and flood struck the village:
" …for three days the sou'-wester had been heaping up the sea-water against the shores of Cardigan Bay. People remembered with misgivings
that an expected high tide coincided in time with the gale, and shook their heads significantly as they went to bed on the eve of January 30th".
"In the half light before sunrise, the classes, emerging from the school-room after morning prayers, found the street between them and the
Terrace threaded by a stream of salt water, which was pouring over the sea-wall in … increasing volume. But before morning school was over
the stream had become a river, and thrifty housewives were keeping out the flood from their ground-floors by impromptu dams."
" For an hour the narrow ridge on which the village stands was swept by a storm of foam, while, from moment to moment, a wave exploding
against the crest of the ridge, would leap in through the intervals between the houses, and carrying along a drift of sea-weed and shingle,
splintered timber, and wrecked peat-stacks, go eddying down into the drowned pastures beyond. A fisherman, surprised in his kitchen, was flung
down and nearly strangled between door and doorpost by the rush of a wave through the window. A neighbour was drifted out of his house on
the top of one wave, and scrambled back to find the door slammed and held against him by another".
Amazingly, it seems that no one was seriously hurt, even though a lot of damage was done and many animals were drowned on the fields behind the village.
John's parents were still living in Victoria house at this time, which was backing on to the sea. Even at home the Borth residents were subject to the fury
of the ocean.

1877
John's last recorded foreign voyage was again as captain of the Fairy, leaving around 26th May and returning on 11th Nov, after a six month voyage to
the West Coast of Africa. None of his fellow crewmembers were from Cardiganshire. His 1st Mate was Thomas Williams (54212) from Newport and
2nd Mate was an R.Williams from Liverpool. The eight AB seamen came from Finland and Scandinavia.
It is possible that John stayed on occasionally as captain of the Fairy as it continued to trade around the UK for another 5 years, still under the ownership
of John Jones, Trefechan. A brief mention appears in Aberystwyth Town Council Records in 1881 with a dispute between John Jones and the Council
over damage sustained to the Fairy as a result of neglect of the harbour facilities[58]. Apparently the Fairy was brought into Aberystwyth harbour and moored to
a post on St Davids wharf. A heavy flush coming down the Rheidol caused the mooring post to break and the ship swung across the harbour and broke her back. she was taken into the Trefechan Gap for repairs but was eventually condemned. Litigation followed between the owner and the Harbour Authorities resulting in the owner being awarded £1300 damages and costs of £3000 [59]. The Fairy was finally recorded as being broken up in 1883 and taken off the Register.
Of the ten vessels that John sailed in during his career, this was the only one that ended its days being broken up as opposed to being wrecked or abandoned at sea as summarised below: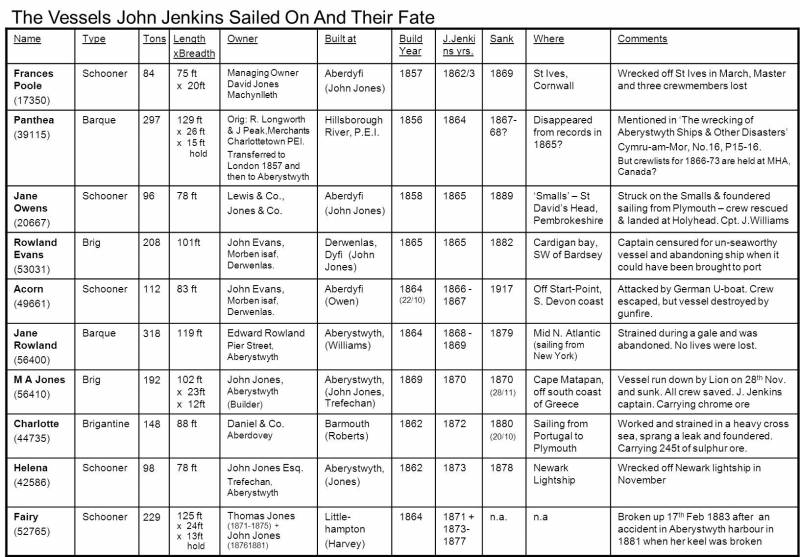 The journey to Africa was the last of John Jenkins' voyages to be recorded in the Lloyds Captains Register which probably means that he restricted his
future voyages (for the next 6-8 years) to coastal journeys within the British Isles.
This makes it very difficult to follow his further maritime career and I have not yet found any details of the ships he sailed on.

1878-1885
During these years John lived in Llandre just inland from Borth. He had a son who he lost (aged five) along with his first wife and his parents.
He re-married in1884 to Anna James of Ruel Isaf farm.

1886-1887
By the mid 1880's John was possibly finding it harder to find work on the coastal sailing ships as more and more trade was being taken by the railways
and by the increasing number of steam ships. The last ship was built in Aberystwyth in 1881 and the last on the Dyfi river soon after.
Many of his fellow Borth Captains had moved on to the larger steam and sailing vessels but maybe he wanted to stay closer to home and be with his new
wife and family.
Whatever his reasons, sometime in 1886 or 1887 John gave up his sailing career after 30 years and moved with his family to Monmouthshire to run a
Market Gardening business at a place called Beili Glas, Llanellen, south of Abergavenny. He must have used the money he inherited from his father plus
the money from the sale of his house in Llandre and from his father's Victoria house. This is a picture of the same house today.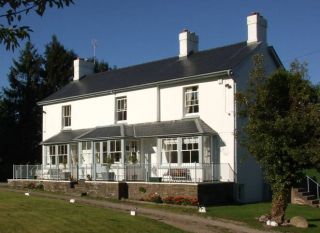 The move seems to have been made around the same time that Anne's brother and sister (David and Lydia James) sold Ruel Isaf farm, to the east of
Borth, and bought Green Court farm near to Beili Glas. The two families stayed very close over the following years.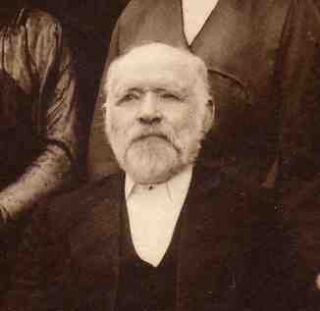 1888-1919
During this period John continued to live at Beili Glas with Anne.
He had 3 more children (one being Catherine - my grandmother)
and he was regularlyrecorded as a Market Gardener in Kelly's
trade directory.

1920
John is pictured here (aged 80) at the marriage of his daughter
Catherine to John Jacob Lewis (my grandfather) on 28th April.
His wife Anne is not pictured with him and she may have died.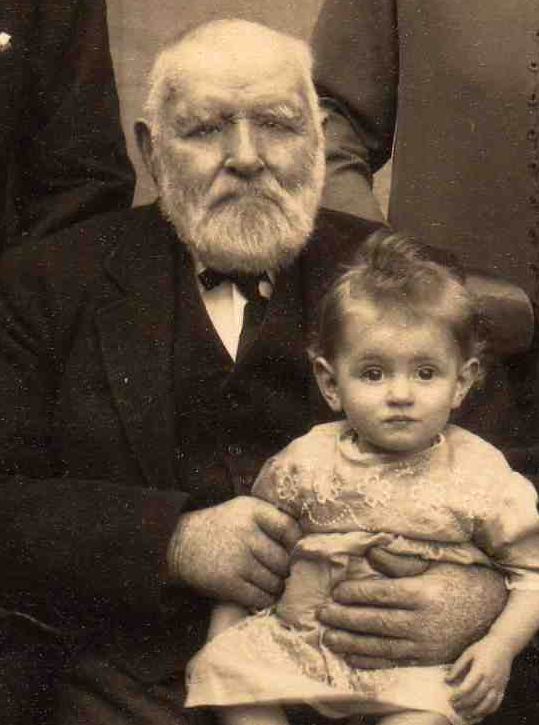 1928
John is pictured here, at the age of 88, with his new grand-daughter Kathleen Mary. This is my mother, who still just remembers him from when she was about 3 years old (she is now 82).

1931
John Jenkins died on 25th August 1931 at Pentre Court, Abergavenny, at the age of 91. He was buried 3 days later at Llanover Church.

I love the picture of him with my mother - the huge weather-beaten hands holding her gently and the way the image captures a link between two lives spanning an incredible 170 years.

My Great Grandfather spent 30 years travelling the oceans (see map below) experiencing a variety of different cultures and people.
Here I have assembled only a small fraction of his exploits but it is enough to give an insight into both the hardships and experiences he encountered.

I'm very proud to be descended from someone tough and capable enough to have survived many years of sailing the world's oceans in small trading ships; who achieved the status of Master Mariner and who then started a second 30 year career as a Market Gardener.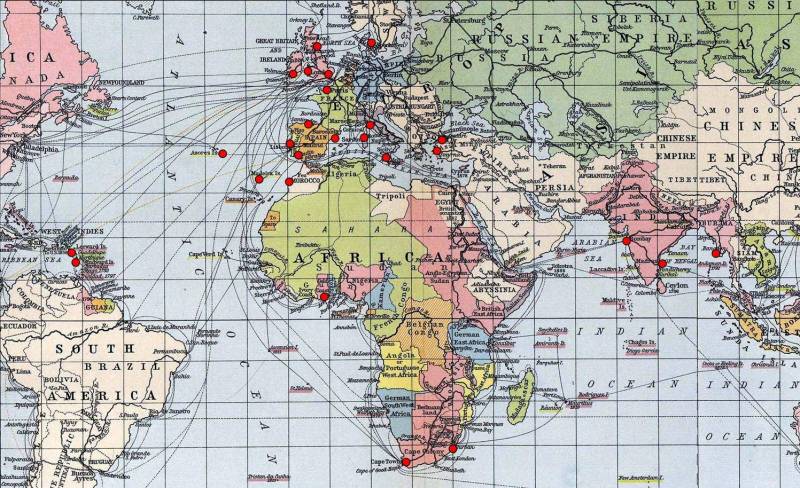 References:
[1] Llanfihangel Geneur Glyn Parish records, National Library of Wales, Aberystwyth.
[2]'Carrier' in 1851 & 1861 Census + as recorded on John's 1st Marriage Certificate 1851 & 1861 Census
[3]Certificate of Competency as Master 81601, July 1869, supplied by National Maritime Museum, London
[4] Terry Davies, 'Borth a Seaborn Village', Gwasg Carreg Gwalch, 2004, page P.45
[5]John is actually recorded in the Census as John Lewis, where the Lewis was 'dittoed' from Anne Lewis, but I'm sure this is meant to be him as he's described as 'son' of David Jenkins and he's the right age for John Jenkins.
[6] Crew lists viewed at National Maritime Museum, Greenwich, London, for the period June 1861 to July 1862.
[7] No certificate number on the Log Book / Crew Lists that were viewed at National Maritime Museum.
[8] Probably the Thomas Jones (85050) listed in Welsh Mariners Index, born 1832 in Borth, died Llandre 1920 (age 88).
His father was a mariner (away at sea in 1841 and dead by 1851) and he was born two houses away from John Jenkins on the 1841 Census. His younger brother Richard,
who was the same age as John Jenkins, later went on to captain the Charlotte with John Jenkins as his Mate.
Thomas Jones himself went on to become the 1st Mate on the Loch Fergus (846t Barque, built 1875, Glasgow) from 1882 to 1885, then the Loch Fleet (713t Ship, built 1872,
Glasgow) from 1885 to 1886. These ships sailed regularly to New Zealand. See also: http://www.old-kirkcudbright.net/pages/lochs.asp
[9] Lewis Lloyd, "A Real Little Seaport, The Port of Aberdyfi and its People 1565-1920", Vol 2, P56.
[10]Lewis Lloyd, "A Real Little Seaport, The Port of Aberdyfi and its People 1565-1920", Vol 2, P135.
[11] Dr David J Starkey, "Schooner Development in Britain", Conway's History of the Ship, Vol. 8, p135
[12] Machynlleth & Dyfi Valley Website , Richard Knight Williams - http://website.lineone.net/~dyfival1/framedyfi.htm[13] "Thomas Jones of Aberystwyth, Ship-owner", Gerald Morgan, Maritime Wales, Vol 17, P.33
[14] Lewis Lloyd, "A Real Little Seaport, The Port of Aberdyfi and its People 1565-1920", Vol 2, P134.
[15] "The Merchant Schooners", Basil Greenhill, Vol.2, p.9
[16] Picture from: http://www.atlantictallships.ca/gallery.php?action=display&OutputType=Ships&ID=414&lang=e
[17] Canadian Heritage website:
[18] Aberystwyth Ship Registers, Ceredigion Archives, AT/SHIP/5 P.48
[19] Panthea Log Book, Feb-Nov 1863, National Library of Wales, Aberystwyth
[20] Panthea(39115) Crew List, Feb-Nov 1863 (obtained from National Library of Wales, Aberystwyth):
Name Age Where Born Ship Last Served In Capacity Monthly Wages
John Jones; 37; Borth same ship, joined 13/6/57 Master, 16540
David Williams; 21; Aberystwyth same ship Mate, 26559 £4-15s
John Jones; 24; Borth ---, Aberystwyth Boatswain £3- ?s
Henry Pritchard; 19; Newport Mary, Fowey Cook & Steward £2-17s-6d (£2-17s-6d in adv.)John Thomas; 29; Newquay Camilla, 'Ly.mo' Able Bodied Seaman £2-10s. (£2-10s. in adv.)
Dominick Conway; 26; Liverpool -- " -- AB £2-10s. (£2-10s. in adv.)
Thomas Hughes; 23; Borth Jane Sophia, Aberystwyth AB £2-10s. (£2-10s. in adv.)David Evans; 20; Aberayron 'Glyniron' Aberystwyth AB – Died in Madras £2-10s. (£2-10s in adv.)John Jenkins; 22; Borth Frances Pool, Aberyst'th AB £2-10s. (£2-10s. in adv.)
George Trevelyan; 18; London ----------; London Ordinary Seaman £1-10s. (£1-10s. in adv.)Rees Davies; 14; B…..? King of F----?, Cabin Boy 13s. (13s In adv.)[21] Based on a record of the race between the Ariel and the Taeping in 1866 as described in "The Seafarers, Clipper Ships" by A.P.C. Whipple, 1980, P119.
[22] House of Commons Research paper 99/20 – Inflation, the Value of the Pound 1750-1998 – 23/2/1999
[23] Description of Wapping docks in 1849 by Henry Mayhew, London Port History (pictures also from this site): http://www.portcities.org.uk/london/server/show/ConGalleryCollection.20/chapterId/162/Royal-Ceremony-and-Parading-on-the-Thames.html
[24]Crew List for the Panthea, Feb-Nov 1864, held at the National Archives, Kew, BT99/217
[25] Terry Davies (author of Borth, a Seaborn Village), new book manuscript kindly shared with me.
[26] Welsh Mariner's Index, Dr Reg Davies
[27] Welsh Mariner's Index, Dr Reg Davies
[28] Crew List for the Jane Owens Jan 1865-Jun 1865, held at National Maritime Museum, Greenwich, London
[29] 'Shipbuilding and Shipowning in Montgomeryshire': the Evans Family of Morben Isaf, Derwenlas' by David Jenkins, Montgomeryshire Collections 88 (2000), p 63-86
[30] Lloyd's List, Guildhall Library, London
[31] Agreement and Account of Crew (Foreign Going Ships) for Rowland Evans (53031), 6th July -13th October 1865
[32] Found through Black Sheep Index – 'Part III (Sailing ships – Foundered)
[33] Copy of Certificate of Competency as Only Mate supplied by National Maritime Museum, London
[34] Pictures of Cornish schooner 'Rhoda Mary' model taken at Morwellham Quay Museum, Devon
[35] Plans from "The Merchant Schooners", Basil Greenhill, Vol.2, p.83, with descriptions added
[36] As described in Lloyd's Register of Shipping
[37]Agreement & Account of Crew, Acorn 49661, 25th May 1866
Evan Jones AB Seaman 40 Borth
Albert Beffold? Ord. Seaman 20 London
Thomas Bassett Ord. Seaman 18 Shropshire
Richard Herbert? Boy 16 Cardiganshire
[38] Crew list for Jane Rowland 56400 (Apr.'68-Apr.'69):-
David Hughes Boatswain 24 Borth
Thomas Griffiths Carpenter 26 Aberystwyth
Theophilus Rees Cook 31 Borth
Hugh Hughes AB Seaman 22 Borth
John Thomas AB Seaman 23 ?
Thomas J. Alford AB Seaman 23 ?
Henry Hughes Ord. Seaman 18 Borth
[39] Found through Black Sheep Index – 'Part III (Sailing ships – Foundered)'
[40]Victoria house is present on the 1881 census (while David and Catherine Jenkins were still alive), but not on the 1891 or 1901 census. <Borth House Map 1901>
By comparing the sequence of houses recorded on the two censuses, I believe they lived at what is now Tyrol House.
This was recently confirmed by Terry Davies (author of "Borth a Seaborn Village" and "Borth a Maritime History") who kindly sent me references to David Jenkins that he found in some histories and memoirs of a Borth woman who wrote them in 1924:
"The house that was erected halfway..this house began to be raised opposite Trigfan by Daffydd Jenkins, but before finishing problems occurred. Jenkins left it half built and raised a house in another part of the village called Tyrol today. One can view the remains of the old house on the shingle bank".
These memoirs also referred to David and Catherine: "David Jenkins the carrier constantly teasingly remonstrated with his wife Cati".
[41] Ceredigion Archives, AT/SHIP/6, M.A.Jones, (56410), 18th Jan.1870, P.127
[42] Crew list for the M.A. Jones, 1870
[43] From P.38, "Aberdovey, it's Shipping and Seamen" by Lewis Lloyd – Maritime Wales, Vol.1, 1976
[44]Information from Guildhall Library, London - Lloyd's List (Dec 16th &28th 1870) and Parliamentary Records – Board of Trade Casualty Returns, 1871 volume 61.
[45] Lloyd's Captains Register, Guildhall Library, London
[46] Lloyd's Captains Register, Guildhall Library, London
[47]Aberdyfi, Its Shipping and Seamen (1565-1907), Lewis Lloyd
[48] Birth Certificate
[49] Crew Agreement (no.11128) for the Helena (42586), voyage from Cardiff to Madeira to Morocco and finishing in Glasgow.
Name Age Born Capacity Wages
John Jenkins 32 'Aberystwyth' Captain
Lewis Jones 28 ditto B'Swain £4. 10s.
Edward Edwards 20 ditto A.B. £3. 15s.
John Williams 25 Cardigan A.B. £3. 15s.
Daniel Williams 26 St. Dogmells A.B. £3. 15s.
(nr. Cardigan)
Left Cardiff 31st Jul. 1873, arrived Madeira 21st Aug, left 26th Aug, arrived Saffi (Morocco) 5th Sept., left 13th Sep, arrived Glasgow 13th Oct.
[50] Crew Agreement (no.81890) and Log Book for the Helena (42586), Voyage commenced from Glasgow 4/11/73.
[51] Lloyd's List, Guildhall Library, London
[52]"Through Mighty Seas", Henry Hughes, Stephenson & Sons, 2nd Edition, 1975, page 168
[53] The volcano destroyed St. Pierre in 1902, killing 36,000 people
[54]Lloyd's Captains Register, Guildhall Library, London
[55] "Through Mighty Seas", Henry Hughes, Stephenson & Sons, 2nd Edition, 1975, page 122
[56] National Maritime Museum, London, oil on canvas, 1027x1036mm, 1874, Lionel Percy Smythe.
[57] "Uppingham by the Sea a Narrative of the Year at Borth", Skrine, John Huntley, 1848-1923, 1878, Project Gutenberg[58]"Meeting, March 15th 1881 - Resolved that the claim made by Messrs Roberts and Evans on be half of Mr John Jones for damage alleged to have been sustained by the Schooner 'Fairy' through the neglect of the Corporation be referred to the Harbour Committee and that the Town Clerk and Corporation Solicitor be requested to attend the meeting of such committee." AberystwythBorough & Town Council Records, NLW, Aberystwyth, www.aber.ac.uk/~hstwww/research/aberystwyth.html#f
[59] Email communication with Nick Tudor-Jones, a descendant of Thomas Jones, ship builder and owner

Useful Links:
· Welsh Mariner Database by Dr. Reg Davies: http://www.welshmariners.org.uk
· Crew List Index Project: http://www.crewlist.org.uk/index.html
· Index of ships official numbers: http://www.mariners-l.co.uk/IBON-INDEX.html
· Tracing Captain, Mates and Engineers Certificates: http://www.nmm.ac.uk/researchers/library/research-guides/the-merchant-navy/tracing-people-master-mariners-mates-engineers
· Maritime History Bibliography: http://www.mightyseas.co.uk/marhist/misc/bibliography.htm
· Aberdyfi, Shipping & Seamen, Dr Lewis Lloyd: http://www.maritimewales.org.uk/MaritimeWalesAberdyfiLL.pdf
· Genuki Merchant Marine references: http://www.genuki.org.uk/big/MerchantMarine.html
· Canadian Heritage Ship Information Database: http://daryl.chin.gc.ca:8000/SEARCH/BASIS/vessel/public/vessel/SF
· National Maritime Museum: http://www.nmm.ac.uk/
· Aberystwyth History: http://www.aberystwythguide.org.uk/history/to1900.shtml
· London Port History: http://www.portcities.org.uk/london/server/show/ConGalleryCollection.20/chapterId/162/Royal-Ceremony-and-Parading-on-the-Thames.html
· Maritime History Archive, Canada: http://www.mun.ca/mha/index.php
· Ceredigion Archives Ship Registers: http://archifdy-ceredigion.org.uk/catalogue.php?open_str=%2Cm18%2Cm20%2Cc63
· Mariners website – many useful links: http://www.mariners-l.co.uk/
· A brief summary of Dyfi ship building: http://website.lineone.net/~dyfival1/histship.htm